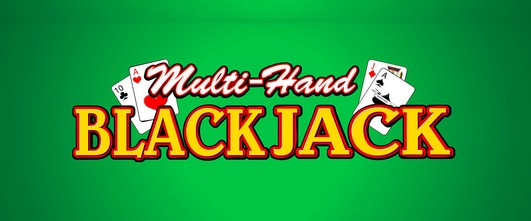 Part 27: Sometimes you gotta do what you do best

Anonymous

Published 05/04-2019
My excitement of trying new slot machine games took a toll on my total casino balance recently. I went from having almost €30 to only having €22.37 so I decided to go back to the games I do best: Blackjack!
The Live Casino games still stress me out, so I thought I would start with the new game called Blackjack Multihand.
This game is a new game from the game developer iSoftBet. You play alone against the dealer but can choose between making 1 to 3 bets. The smallest bet you can make is €5 while the highest is €500.
You can watch the video of me playing Blackjack Multihand just below here.
As you can see in the video the loading was a bit slow today not sure if it was my internet or the Dealers Casino webpage. Anyway, this is how it went for all of you who don't feel like watching the video:
I decided to make two €5 Bets, as I felt confident that I could win at least one hand. On the first hand I was dealt a 9 and a Jack =19 and on the second a Jack and a 7=17 I decided to stand on both because I thought since the dealer also has to stand on 17 there is a big chance of a push.
The Dealer gets two 7's =14, Hits another 7 –BAM… lost €10 in one second…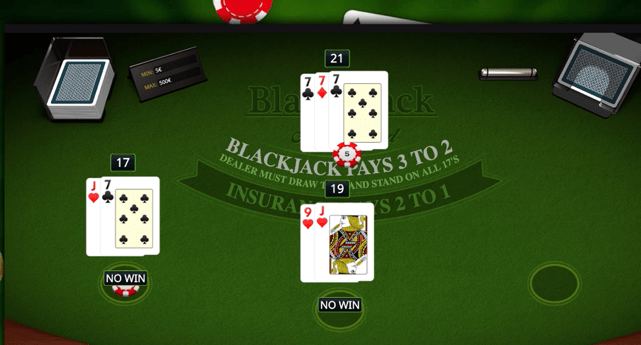 I still felt rather sure that I could catch up on the money I lost but I decided to take it a bit slower and only bet one hand at a time. I got a 5 and a Jack = 15 I had to HIT, 16, HIT, 17…Stand the dealer gets 17 and the hand ends in a push.
On my third hand I bet €5 (my balance is still €7 after the bet) so I know that if I bust, I only have one hand left to play. I get a 6 and a Jack… 16. Sixteen. I know I have to Hit even though I also know that I am very close to losing it all. Another six…BUST…damnit…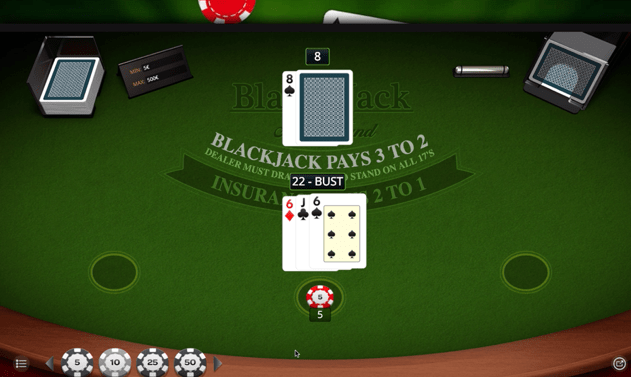 My last hand. A queen and a 2, I hit and get 4 Hit again and get a 2 = 18 I know that logically I have to stand so I stand. Now all my luck is in the dealer's hands…
The Dealer gets two sevens and then a two, they continue hitting get 19 and I know that I have just lost it all…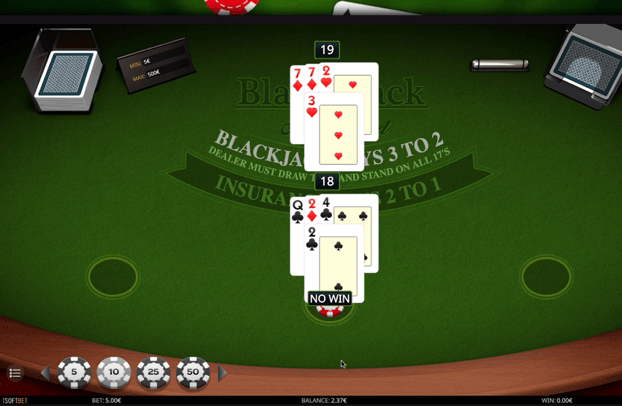 Oh wow… on just four hands I lost it all... sometimes doing what you do best equals a total bust, but I guess that is life.
Want to see if you have better luck than me playing Blackjack? Register to Dealers Casino today!