Part 55: My thoughts on Mr. Play's welcome bonus!

Anonymous

Published 15/07-2019
When you read the welcome offer that is promoted on the Mr. Play casino site, you assume that you will get the 100 Spins automatically. That is as previously said not the case. On your first deposit you receive 20 Spins and to get the rest of the spins you need to make a second deposit on the following day and a third deposit on day 3. Thereby you will receive the total amount of 100 spins.
I was planning on making these spins until I realized that to receive the second batch of free spins you had to deposit a minimum €20 which I found way to high considering I only won €0.97 on my first 20 Free Spins.
Therefore, I decided to skip that part of the welcome bonus and instead be delighted over the 100% Match-Up Bonus that I did receive on the first €20 that I deposited! This means that I have €40 to play with which in reality means that I have the possibility to lose money without actually losing money – A great perk in my eyes!
I do think that you get a fair welcome bonus when you sign up with Mr. Play! I do also think that Mr. Play should be clearer about their terms and conditions regarding the Free Spins. Also, Starburst is fun… but Starburst is probably the game that most casinos offer their welcome bonus to, so if it would've had Free Spins to any other slot machine game, this anonymous blogger would've been even happier with the Welcome Bonus.
But hey, you guys now know what the welcome bonus entails thanks to my in-depth online casino review, so for all of you who want to get a 100% Match-up and 20 secured Free Spins to Starburst I say – Go AHEAD!
Ps. When I logged in today (Day 3 of my membership) I received this daily bonus: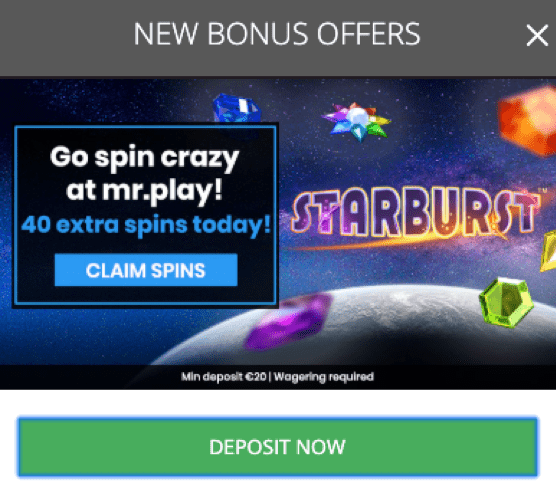 40 Spins for €20 which is like the offer I skipped, not great but it's good to know that the offer comes back in case I would want it someday. Overall, I think it's good that this casino offers Daily Bonus offers that we as customers can take part in!
Register your account today to claim your welcome bonus[/a]!