Part 64: Emerging myself into the authentic casino feel

Anonymous

Published 09/08-2019
I've never been to Vegas or Monaco… to be honest I've never stepped my foot in a real casino. The closest I've ever been to a real casino are the slot machines on the Ferries between two Scandinavian capitals. In my mind a casino looks and feels the way they are portrayed in movies and TV-shows. I see casinos as a mix between something super glamourous and amusing with a small touch of something…for lack of a better word trashy…. Maybe the trashy part comes from my real-life experience of the ferries. He he he…

Anyways, the point of Live Casino games is to emerge players into an authentic casino atmosphere, with professional dealers and other players. A good Live Casino game should transport the players from wherever we are to at least give the feeling of being in a real casino. On Mr. Play the live casino games are provided by Evolution Gaming.
In the video above you can see when I tested Evolution Gaming's Roulette Table and Blackjack table.
Roulette
There are a lot of Roulette tables to choose from. The minimum bet ranges from €0.1 - €2.
I choose to play Lightning Roulette, I don't really know why, since I mostly only do outside bets the lightning Roulette is not really for me. But I do find it quite cool that betting on the right lightning number can multiply your winnings sometimes up to 200x.
The internet connection was not the greatest and this was not my fault because after playing I checked my internet speed and it is good, I just think that sometimes when there are a lot of people online at one table it slows the connection down which makes it a bit lagging. The fact that the game lags takes away from the "Authentic Casino Feel", which I otherwise believe to be there.
I won some, I lost some, a bit like what I suppose happens when you are at a real casino.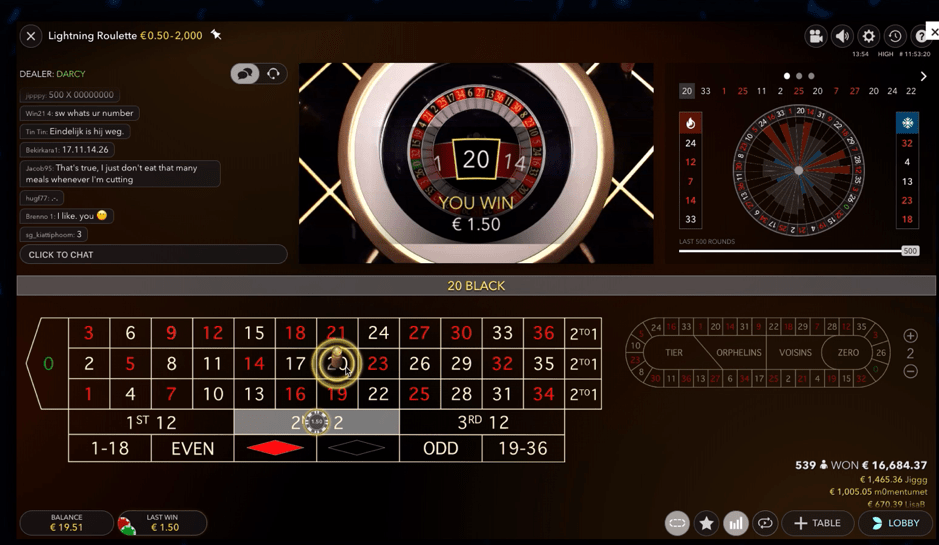 Blackjack
At first, I was confused that there was no lower stake table than the one with €5 as minimum bet. I choose to still give it a try despite being slightly low on funds.
The graphics are really nice, and the dealer was super professional and motivational, I forgot to film with sound again and therefore you will not hear her, but she was very calm, and it made me less stressed than usually in these situations. Usually the Live Casino games make me slightly stressed because you have a limited time for betting, hitting or standing etc.
I must say that the internet connection was working a whole lot better with this game, which was nice because there is nothing worse than being forced to quit playing because the connection is not good. Anyways, I started betting €5 and won. That totally meant that I had to try again, I was dealt 19 and was convinced I would win, but the dealer got 21 which meant I lost but, in the end, I still managed to end winning which is nice for a change.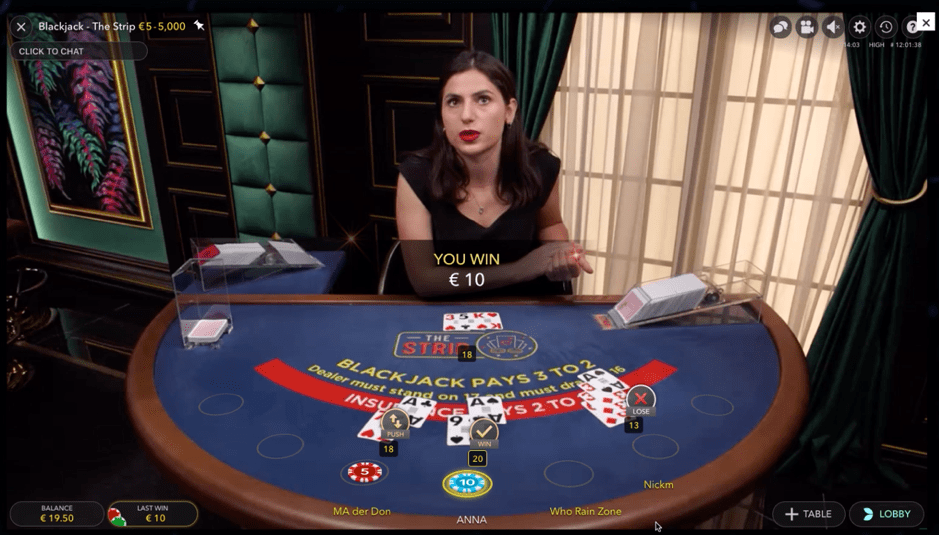 Test your live casino luck by signing up to Mr. Play today!