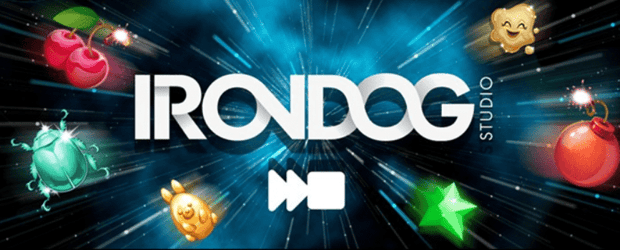 Iron Dog Studio

Nanna Kjærholm

Published 19/09-2019
Iron Dog Studios is one of the newest in the herd of 1X2 Gaming Network's subsidiaries. The new online casino games supplier brand was established in November 2016. Even though the brand has not been on the market for very long, the team behind has many years of experience from the online gambling industry.
It is expected, that this casino games supplier is going to see much more attention in the future. This is due to the company's strong expectation about the warm welcome consumers are going to give their new casino games. The company says in a statement: "It is our passion to create new concepts, that will entertain the players, and our faith in, that we by doing it, will continue to share the fun of our creations with operators and players. Iron Dog Studio wishes to create an amazing experience for the players, which also includes the new technological advances, that can make a game excellent. This is the case of a company, where the employees are very committed, which affects the quality of the games.
Licenses
This casino games supplier is limited to only work within markets, where a gambling authority has set up clear guidelines for the player. This is why Iron Dog Studio´s games only are possible to find on the regulated markets with licensing agreements for the online casinos. Furthermore, it is also important for the game supplier to hold the applicable licenses needed for operating in the given markets.
Today Iron Dog Studio holds licenses with the industry´s most respected regulator, the UK Gambling Commission. This means that you can be absolutely sure that this casino game supplier is completely fair and secure when playing one of the company's games online.
Online Casino Games
The games are fun, and there is a lot of innovative features and design (very colorful games), which helps ensure that you are entertained from the very start. The majority of the games they develop are online slot games. They do also have a couple of classic table games like Blackjack, Roulette, and Baccarat in their portfolio. In addition, they also made a few pieces of scratch card games. One thing is for sure - and that is that Iron Dog Studio makes sure that the players experience games of incredibly high quality.
All the games that they have developed can be played while you are on the go. This is because of their "Instant-Play" games that works on all devices. Therefore, it does not matter if you use a smartphone, a tablet or an ordinary computer - you will always have the opportunity to play your favorite game from Iron Dog Studio! Bellow you will find some short reviews of some popular Iron Dog Studio games, as we at FindFairCasinos think you should try to get a feel of how good the quality of the games is.
Blood Queen
Meet Ivanka The Vampire Blood Queen, Gargoylen, and Van Hell in this fun and very popular video slot in the fight to break down the evil in Ivanka The Blood Queen. Experience amazing graphics and sound while you play. The game runs with a maximum bet of 90 EUR, and you can play with up to 5 rows if you want to. The game also gives you the opportunity for free spins of 20, 30, and 50 pieces. You do not want to miss out on this fun game!
Viking Wilds
Experience a whole new world with the video slot Viking Wilds. Iron Dog Studio has managed to recreate a Viking feeling with this amazing game. As a player, you join a journey back in time and experience the ice-cold Nordic waters and fjords covered with snow. Meet Valkyrie, Norse or Berserker, while they guide you through the game. Open Valhalla´s gates with free spins to get rewards. In the game you also have to collect 3 keys to open a free spins feature.
Neon Jungle
The game Neon Jungle is a video slot that makes you feel blown away. Get free spins and bonus rounds, while you have fun playing. The maximum bet is 1000 credits. Experience the glowing snail, that makes it possible for the player to reap advantages. When the neon glitter is activated the players will be rewarded with free spins. Other prizes can also be obtained such as the special Flamingo bonus or the Dazzling multipliers.
All Iron Dog Studio´s games can be played on both mobile devices and desktops. It is also possible to try demo versions of the games before spending money in the real version.
Mobile optimization
Iron Dog Studio is fully aware of where to place the right investments to reach all mobile users. You can play their games on mobile devices and computers. Here it is even possible to try their games in demo versions, as written earlier. One must say that Iron Dog Studio is well and widely updated in terms of mobile games, which is important for consumers today.