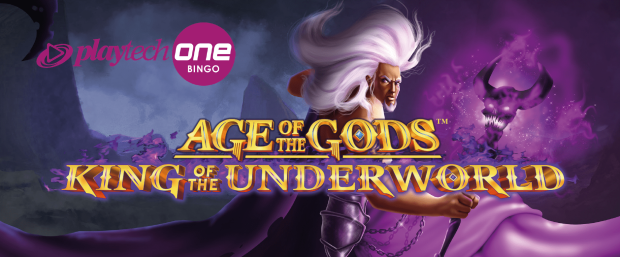 Age of Gods suite comes to bingo

Mathias Jensen

Published 11/08-2018
Playtech, the leading software developer, has unveiled a new slot, King of the Underworld, that brings the Age of Gods suite into online bingo. This game is the company`s second Age of Gods: King of the Underworld bingo-type slot, and was released on July 10.
Unique journey
This new game sees players embarking on a journey to recover lost souls and take the chance to reap some big rewards on the journey. The software developers have incorporated legends from the Greek Myths into the game, including Persephone, Queen of the Underworld, Cerberus, the hound of Hades, and Hermes, messenger of the Underworld.
The Playtech Bingo Content studio]are the developers of King of the Underworld. There are a number of new features in the game and different ways in which players can be rewarded, with two bonus rounds and a selection of wilds and scatters. Bonus rounds can take players to a pair of unique game areas that may lead on to jackpots.
One of the bonus rounds is called the Gates of Hell, and players are given the chance to select a door. A correct choice saves a lost soul, a wrong one summons Cerberus and the bonus round is terminated.
The other bonus round is called the Thread of Fate. Players encounter the Fate Sister goddesses and will see magic appearing across the reels.
Angus Nisbet, Playtech's Managing Director of Digital Bingo, explained: "Age of the Gods is one of the biggest success stories in original iGaming content of recent years, so we're delighted to bring the brand to Bingo. Our in-house team has done a sterling job in creating a game captures the look and feel the Age of the Gods series, whilst still offering a distinct appeal in its own right. We are very proud of the finished product, and I'm confident players will love King of the Underworld too."
The new release follows on from the Age of Gods: Lord of Lightning, and maintains the expansion of this well-liked series, with the games now available from Live Casino and Poker gaming, as well as via the original video slots.