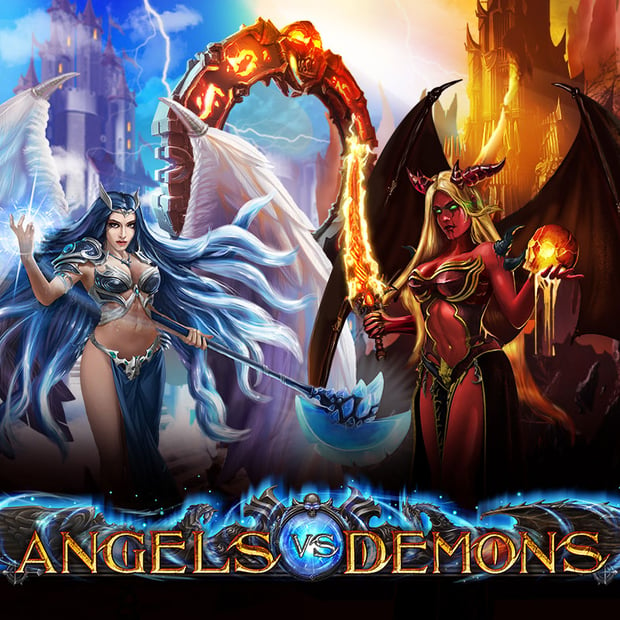 Angels vs Demons from AGames

Mathias Jensen

Published 31/01-2019
The fight between good and evil: is there an older story in the annals of heaven and earth? AGames has put its own 'spin' on this ancient tale in Angels v Demons, where a spin of the reels will tell you whether you're aligned with the forces of good or the forces of evil.
A beautiful white castle on the left of the screen and its dark foreboding twin on the right … and on the reels, angels in heaven and demons in hell flick up to tempt and warn the players. Both good angels and wicked devils can be Moving Wilds: on the first reel, angels of celestial blue glide one place to the right with a re-spin, while on the fifth reel, demons similarly move to the left. Winning combinations are given a boost by wild symbols standing in for both angels and demons.
A double wild during the game – the merger of an angel and demon – wins bonus spins, when the wilds will disappear. A range of angel-demon mergers can crop up on the reels, all with different outcomes: absence of the Imp, Demon, and Scull wins five Angel Bonus Spins, while when the Fairy, Grail, and Angel wild stay away, the prize is five Demon Bonus Spins.
As well as angels and demons, the reels are packed with the traditional gaming card symbols of ace, king, queen, and jack, all of which can produce wins, although less than the bespoke angel- and demon-related ones. Five Books bring 250 coins, five Fairies or five Imps bring 150 each, and lower coin wins also come from three, four, or five of the gaming card symbols
The new casino game is a welcome addition to the portfolio of an innovative developer and, released only a month after the previous offering, Spy Girls, is testament to a bright and creative team. Tipped for the same success as the three female undercover agents, Angels and Demons is one to watch.