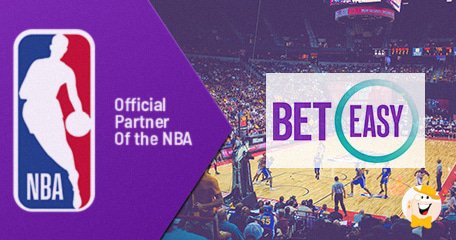 BetEasy Become Official Australian Betting Partner of NBA

Mathias Jensen

Published 09/03-2019
Australians are some of the biggest gamblers in the world, gambling more money per capita than anyone else and taking a great interest in sports betting, as well as online slots (known as "pokies") and card games. In an effort to take advantage of this sport-and-gambling obsession, the Melbourne based BetEasy have partnered with the National Basketball Association (NBA) to become the first ever partner of the NBA in Australia.
The BetEasy brand is actually owned by The Stars Group, who are based in Canada. They are a leader in mobile gambling, poker, and casino gambling and by partnering with the NBA under their BetEasy brand they have also helped to take their sports betting operations to another level.
What This Means
As per the terms of this new agreement, BetEasy will be given access to a host of NBA assets which it can use for marketing purposes, and its products will then be promoted to fans of the NBA in Australia.
To put this in simple terms, it means that BetEasy will be able to use the NBA logo and branding it order to promote its services, and in return the NBA will promote the BetEasy brand Down Under.
The NBA brand will be promoted throughout BetEasy's platforms and the favor will be returned by NBA Australia, who will promote BetEasy through their regional social media accounts, as well as the NBA app and NBA Australia website.
Promotions
One of the ways that BetEasy is planning to exploit this new partnership is via the launch of NBA Pick'Em: Weekly 6, a free-to-play game where players will be tasked with predicting the outcome of certain NBA games. BetEasy will offer these players a host of prizes in exchange for guessing correctly.
BetEasy will also be able to access official data from the NBA, which they can then use to build their pre-game betting markets and their in-play betting markets. This will help them to build a bigger and clearer picture for their members, which in turn should increase the number of basketball fans that join the site and the number of bets that they place.
A Big Future
This is not the only big deal that The Stars Group have made in Australia. The Canadian-based company recently purchased the William Hill Australia assets, which they did through their CrownBet operator for $244 million. In addition to this, The Stars Group also own PokerStars and Full Tilt, brands that dominate the Australian poker scene.
The Australian gambling market has become one of the most lucrative in the world. Every major European and American gambling brand wants their share of this market and with these recent acquisitions and partnerships The Stars Group have beaten many others to the punch and look set to become one of the biggest operators that this country has ever seen.