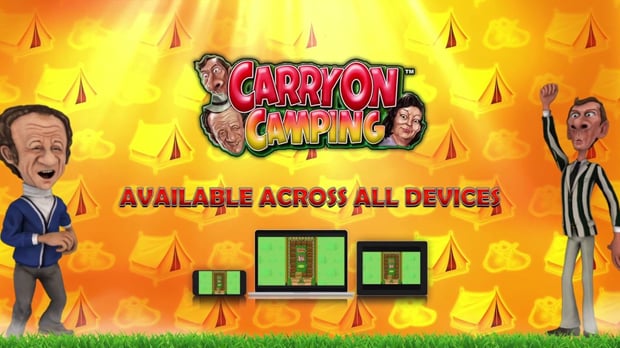 Blueprint Gaming expand Pub Fruit Series by releasing new tie in slot

Jonas Riis Vestergaard

Published 30/11-2019
Blueprint Gaming have made another addition to their highly popular Pub Fruit Series of games with a new tie in. They have used the famous Carry On series of films to create a brand new slot that will carry the name of the late 60s entry in the franchise, Carry on Camping.
This comes just after Blueprint Gaming upgraded their marketing tools. This was all part of a plan for them to offer better promotions to operators who carry their titles.
Famous actors
The new Carry On video slot will include a range of characters that were made famous by the Carry On movies. With Kenneth Williams and Sid James both included in the slot it is bound to create plenty of laughs on the way to a big win. There are three reels and three paylines on this slot as well as bonus features.
Features of the game
There are ten rounds included in the game, which will keep players interested and engaged when playing Carry on Camping. There are also many different ways to reach the Big Money round where the big prizes are hiding.
A picker feature will also start up whenever you land the Super Pick in the active zone. This will give players the chance to pick Sid James which will pay out a nice win or even activate the bonus round.
Plenty of fun to be had with Carry on Camping
A spokesperson for Blueprint Gaming said that they were happy to be bringing back a British classic for their latest title in the Pub Fruit Series. Because the Carry on films are part of British culture, just like a pub fruit machine is, they felt that this was the perfect combination to really inspire players. The design of this game is sure to excite players and any fans of the Carry On series are bound to love what is on offer.
The slot is expected to combine the knowledge that Blueprint have acquired during their time providing slots for real world casinos and put it into practice with the online market. This game will feature a huge range of features that are designed to offer players a good line between risk and reward.
It will be available on all devices, from mobile to desktop, upon release.
Upgrade to promotional tools
This comes after Blueprint have worked hard to improve the tools that they offer to operators in order to create promotions. There are to be more customer based features which will see the ability for operators to create far better promotions with Blueprint titles.
These new tools will be used to enhance and sit alongside the existing tools that are in place on Blueprint titles. They are expected to be put in place before 2020 and will see a range of operators have access to the new promotion creating workshop.