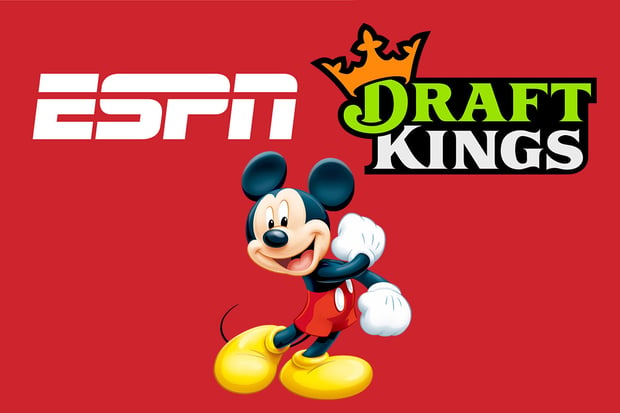 Disney Company Purchase Stake in DraftKings

Mathias Jensen

Published 08/06-2019
The Walt Disney Company hasn't been very receptive of gambling in the past and despite owning the biggest media and entertainment empire the world has ever seen, they have avoided the gambling sector. That is, until now, as Disney have just signed a deal with DraftKings Incorporated, a leading provider of daily fantasy sports and sports betting in the United States.
Indirect Purchase
Although Disney technically own a piece of DraftKings Incorporated, and although they actively sought to purchase this piece of the company, the acquisition wasn't quite as straightforward as that.
Disney recently purchased Twenty-First Century Fox for over $71 billion. This deal included all of the entertainment giant's interests, including a stake in DraftKings Incorporated that they had purchased for $300 million several years earlier.
This stake is now in the hands of Disney, who control it via one of their many subsidiaries, and the fact that DraftKings Incorporated now has the might of Disney behind it means they should be able to seize more of the rapidly expanding sports betting market in the United States.
Surprising Interest
Many are surprised at Disney's investment in DraftKings Incorporated, even though it came via an indirect acquisition. They note that the company has been an opponent of online gambling and land-based gambling and have fought against laws that have tried to relax gambling laws in the country.
In fact, just last year they are reported to have spent $5 million to oppose a measure to legalize sports betting in the state of Florida, and yet DraftKings Incorporated are one of the main driving forces behind legal sports betting and online gambling in the United States.
What Disney Have to Say
It all seems very confusing and is no doubt a huge contradiction, so what do Disney have to say about the matter? The CEO of the company, Bob Iger, said in February that his firm would not "be getting involved in gambling" in anyway and would also not be facilitating the spread of gambling in the United States.
They did, however, suggest that they are keen to get involved with sports coverage, before noting that "ESPN have done some of this already". How this develops, however, remains to be seen, but it seems unlikely that Disney will do something that will harm DraftKings Incorporated.