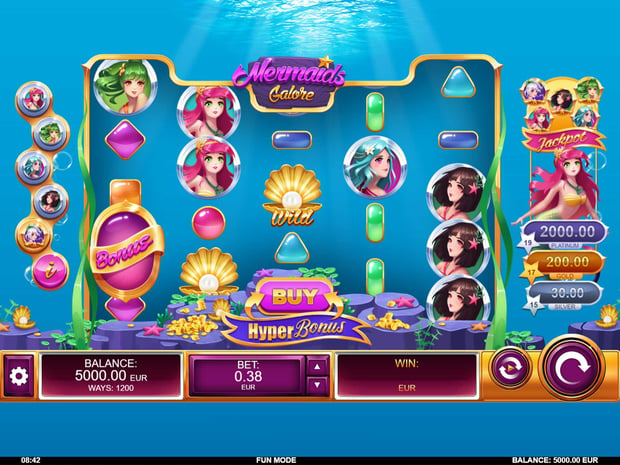 Dive into the Deep Blue with Mermaids Galore

Mathias Jensen

Published 18/05-2019
Kalamba Games announced its Age of Ice Dragons slot just last month, but they are already following that release with yet another. This time it's the turn of Mermaids Galore, a 5-reel video slot title that uses a unique grid that even the most experienced of slot players may not have encountered before.
What to Expect
Kalamba Games used an official press release to announce the launch of Mermaids Galore. They also used this release to describe the many features that this game would have, from its ocean setting that takes players into the deep blue, to its mobile friendly setup and its high-end volatility.
Mermaids Galore is a top slot that is sure to appeal to Kalamba Games's growing fanbase. It utilizes a host of unique features in addition to the original grid layout, including wilds, free spins and something Kalamba Games refer to as HyperBet. Mermaids Galore is mobile friendly and uses a high Return to Player (RTP) of 97.52%.
More to Come
A spokesperson for Kalamba Games commented on the release of this ocean adventure slot to describe how excited the team were, before noting that they anticipated it would do very well. They finished by saying that Kalamba Games have "many more [games] in the pipeline", suggesting that this won't be the last that we hear of this innovative developer this year and maybe even this quarter.
Free spins is something everyone loves, if you want to find the best free spins bonuses at some of our favorite casinos, then you should give our Free spins page a visit here!