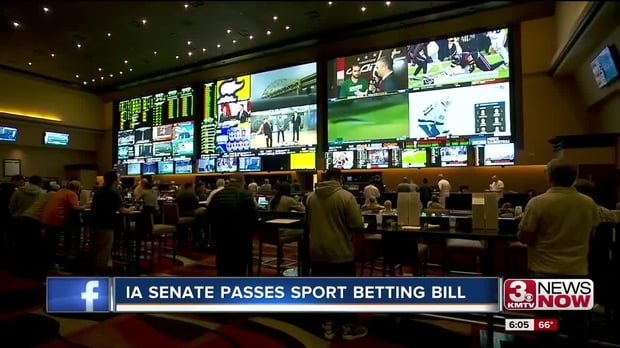 Governor of Iowa Signs Sports Betting Law

Mathias Jensen

Published 27/05-2019
Iowa is set for a big change in their gambling laws as the state Governor, Kim Reynolds, has just signed a bill that will allow sports betting to take place in all of the state's 19 land-based casinos, as well as through online applications.
The sports betting law will likely not come into being until July, when the first bets will begin to take place, but it is a sure thing and will signal a huge change for the gambling industry in this state. In fact, Iowa have become the second Midwestern state, after Indiana, to legalize sports betting.
Law Changes
The 59-year old Republican Governor who signed this law seemed happy to back a transition into a new period of legal sports betting for the state. It means that anyone above the age of 21 will be allowed to place bets on professional and collegiate sports throughout the United States, as well as major professional sports taking place in other countries.
It could also change the daily fantasy sports industry in Iowa, potentially giving providers more room for maneuver and allowing them to operate with more freedom than ever before. The bill will hand over all regulatory control to the Iowa Racing and Gaming Commission, who now have the job of creating rules and regulations, while also setting the guidelines for tax revenue.
The bill states that operators will be asked to hand over 6.75% of all sports betting revenue in tax, which will then be used to bolster the state coffers and potentially to provide more funds for multiple industries and programs.
Online Betting out of State
The aforementioned bill also makes a few things clear regarding out-of-state betting. It notes that sports betting punters who reside outside of the state will be allowed to place online bets providing they are in the state at the time, a fact that should increase potential income from betting tourism.
The Governor noted that the main reason she signed the bill was because she wanted to regulate the sports betting and online gambling industries, providing more safety and stability for players who typically place bets illegally.
It's a similar story in other states that have recently made moves to legalize forms of online gambling, with the idea being that punters are always going to find ways to bet regards of legality, so they might as well regulate the industry to ensure they can bet safely and that the funds can help to generate additional tax revenue.
A Product of PASPA
The completion of this bill came just under a year after the Professional and Amateur Sports Protection Act (PASPA) was scrapped. This law had limited sports betting and other forms of gambling across the United States, and when it was scrapped it opened the doors for states like Iowa to change their own laws and to make their own rules.
Iowa are just one of several states to have made such moves and they will likely be followed by many more. The US gambling landscape has changed considerable in the last year, and there could be many more changes in years to come. Whatever happens, it's fair to assume that the US gambling industry will look decidedly different in 2020 than it did in 2010.
It remains to be seen whether this will be a good thing or a bad thing, whether it will provide more security and safety to gamblers and thus reduce scams and unregulated gambling, and whether it will provide an injection of tax revenue big enough to win over detractors.