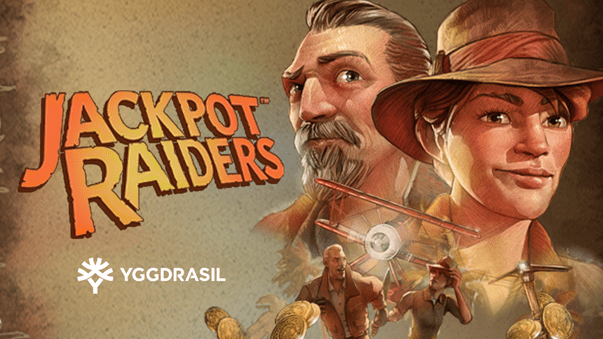 Jackpot Raiders Slot Launched by Yggdrasil Gaming

Mathias Jensen

Published 11/06-2019
The innovative Yggdrasil Gaming have just announced the release of a brand new slot that will no doubt pique the interests of their growing fanbase. The slot, Jackpot Raiders, is a 5-reel visual masterpiece loaded with bonus games, free spin bonuses, wild symbols, and other standout features.
What to Expect
One of the biggest features on Jackpot Raiders is the jackpot, which is paid to players who collect 5 gems of the same time. These gems only appear in the free spins feature, however, so players first need to unlock that round and then get lucky as they play it.
The free spin feature is triggered via three or more Scatter symbols, with players awarded a total of 10 spins if they get three; 10 spins and 1,000 coins for four; and 10 spins and 10,000 coins for five. More spins can be unlocked during play, but the biggest lure is the aforementioned jackpot.
There are other free spin features as well, including the Sunken City Extra Spins feature, which is activated when players collect five relics in the Treasure Hunt bonus feature. These spins all come with a 10x multiplier and a chance to build towards the jackpot.
The Ultimate Game
A spokesperson for Yggdrasil Gaming commented on the release of Jackpot Raiders, calling it the "ultimate game for jackpot hunters!" and adding that while the big jackpot is paid out infrequently, the smaller one is paid out regularly.
They also claimed that the many bonus games would keep players' "balance floating" while generating a "fair jackpot chance even for the unluckiest players".
The Master Program
In addition to launching new titles like Jackpot Raiders, Yggdrasil Gaming have also been busy expanding its YGS Masters program. This program features a selection of top developers, all of which are tasked with creating premium casino games for regulated gaming markets all over the world.
This program will no doubt launch a number of top titles in the near future and we should also see many more titles created by Yggdrasil Gaming, who are one of the busiest developers in the iGaming sector right now.
Free spins is something everyone loves, if you want to find the best free spins bonuses at some of our favorite casinos, then you should give our Free spins page a visit here!