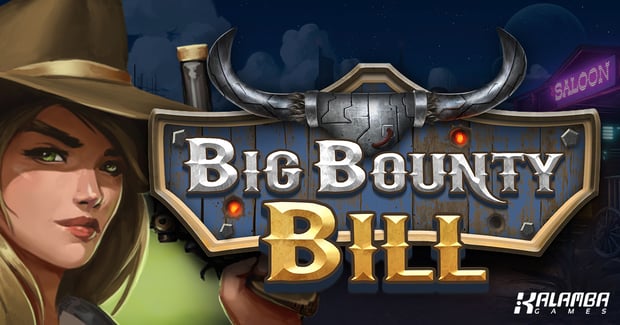 Kalamba Games release Big Bounty Bill, a new video slot

Jonas Riis Vestergaard

Published 29/11-2019
Kalamba Games have jumped into releasing their latest video slot with as much excitement as they had when naming it. Big Bounty Bill is a fast paced slot with plenty of fun included.
It has been described as retro with a futuristic element. It will see players playing in the Wild West, but with the added excitement of cyborgs, steel horses and plenty more besides.
The slots has a frankly incredible RTP of 97.33% which is one of the highest one the market by quite a way. There will also be plenty of bad guys to come along for Bill to try and catch. These will pay out big wins when Bill cashes in their bounty.
Game features
There are huge wins on offer in this title, with up to 5,000 times your stake available to take away. There will also be lots of bonus features to make sure that it provides lots of excitement and engagement.
The game grid is 5 x 4 but it includes three reels on top of this that can be revealed as Bill shoots his revolvers. This will increase the number of ways to win up to a maximum of 16,807. There is also a free spins feature that Kalamba have named HyperSpins. This appears when more than two expansion symbols appear on the reels. This is when big wins can be created.
A great feature of Big Bounty Bill is that you can avoid having to play to unlock the bonus round. You can just buy into it from the home screen and then start playing the free spins right away.
Keeping players interested
The CEO of Kalamba spoke in a press release about how proud they were of Big Bounty Bill. They feel that because they have put together a collection of a lot of their top class features the new game will help keep players interested in the long term. The mix of retro and future for the theme also means it is one of the best looking games on the market right now. It makes bounty hunting one of the most fun activities you can embark on.
Thinking differently
The new title takes the traditional Wild West themed game that developers love and gives it a new twist. This makes it highly interesting and unique.
This title comes after Kalamba released Blood Moon Express. This was a Halloween release and it was themed perfectly for the holiday. It offered big wins combined with big scares to make it the perfect Halloween game.
Kalamba have been running for three years now and are focused solely on creating innovative and enjoyable casino games and slots.