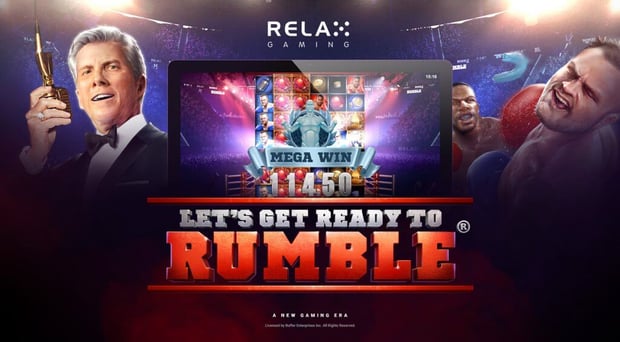 Knockout Performance from Michael Buffer in New Relax Gaming Slot

Mathias Jensen

Published 05/10-2019
Every boxing fan knows of Mike Tyson, Muhammad Ali, Floyd Mayweather, Lennox Lewis, and other big names from the sport's history. But there is one person who never won a belt and never knocked any one down; a legend who didn't fight but stepped into the ring more times than any boxer in history.
That man was Michael Buffer, the announcer who trademarked the phrase "Let's Get Ready to Rumble" and in the process became just as iconic as any of the boxers he announced. Michael Buffer's heyday is behind him, but he still shows-up every now and then and he still owns the rights to his famous phrase, which means everyone who wants to use it needs to go through him.
That's exactly what Relax Gaming had in mind when they spoke with Mr. Buffer about creating a Let's Get Ready to Rumble slot. They spent the best part of 2019 working on this title and have since launched it. This slot was created with help from Michael Buffer himself and includes his famous catchphrase, as well as a maximum win that goes as high as 2,349x.
The Features
In addition to the famous catchphrase and some imagery from the sport of boxing, the Let's Get Ready to Rumble video slot offers stacks of features. These include a Wild Stack feature, which, as the name suggests, stacks Wilds on top of one another; Sticky Respins, which lock wins in place and spin all other symbols around them; and Rumble Spin, which is the most impressive feature of all.
Let's Get Ready to Rumble uses a 6x4 layout and contains 466 paylines in the base game. The goal is to make it through to the feature, where you can fight for the title and live the dream of the hundreds of boxers that Michael Buffer has brushed shoulders with.
There are 1436 paylines in this feature, with Michael Buffer's voice layered throughout. It's the closest you can get to fighting in a real title fight without getting dropped and suffering the ignominy of a 10-count.
A Growing Portfolio
The Let's Get Ready to Rumble trademark has featured on several pop culture classics over the years, including a famous boxing game for the Sega Dreamcast. As far as we know, however, this is the first time that it has ventured into the world of real money slots, which will no doubt direct a lot of attention Relax Gaming's way.
This is the latest in a long line of top video slots that this gaming house has created. Their portfolio has been expanding greatly in recent years thanks to their partnerships with the likes of Silver Bullet.
A spokesperson for the brand commented on the release of the Let's Get Ready to Rumble video slot, declaring that they were delighted to be working with "such a high-profile boxing legend", before reminding readers just how much of a big deal Michael Buffer is in the world of sport. He added that this game helped them to cement their position as a market leader in gaming development, before pointing to its game-changing innovation, its unique gameplay and its attention-grabbing audio.
New Deals
The release of Let's Get Ready to Rumble comes on the heels of several new partnerships, including one they signed with Royal Panda. This deal means that Royal Panda will have access to all of Relax Gaming's slots, including Let's Get Ready to Rumble. It's great news for Royal Panda and for their many players, and it's also a huge step in the right direction for Relax Gaming.
A spokesperson from the Royal Panda online casino commented on this deal to announce that it would "strengthen [their] footprint" in key markets, while Relax pointed to their new partner's dedication to providing high-quality games and services.
Relax Gaming are just one of nearly two dozen studios that Royal Panda has added to their portfolio in the last years, adding more games, more variety and more options to their casino and giving their growing fanbase even more to get excited about.
Whether you have a Royal Panda account or you play at one of the many other online casinos that utilise Relax Gaming titles, you should now be able to play Let's Get Ready to Rumble and hear those iconic words again and again!