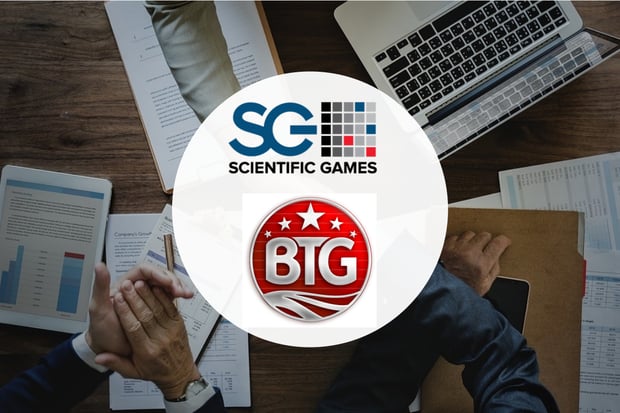 Megaways Mechanic Available to SG After BTG Deal

Mathias Jensen

Published 06/06-2019
Scientific Games Corporation (SG) have just completed a deal with Big Time Gaming (BTG) that will see SG adopt the Megaways mechanic, which is one of the most sought-after mechanics in the video slot sector right now. SG have already taken advantage of this new addition to their vast portfolio, using it to launch the Medusa Megaways game, which give players all of the excitement and style of an SG game in addition to the extra paylines offered by Megaways.
The Megaways Mechanic
The Megaways mechanic was created by Big Time Gaming. It modifies the reels of a video slot to produce many possible payline combinations, giving players endless scenarios and allowing the operators to turn a slot that may have had only 20 or 30 paylines, into one that has thousands.
In theory, there is no end to the amount of paylines that can be created, which is why some Megaways slots have featured over 250,000 of them, with others hovering around the 50,000 to 100,000 mark.
Scientific Games Corporation launched their own Megaways game, Medusa Megaways, in April and in that short time it has already become one of the most popular games on their list, despite the fact that SG have an extensive and hugely popular roster of titles.
A spokesperson for the Scientific Games Corporation commented on the deal to say that they were "thrilled to license Megaways", before hinting that there would be many titles like Medusa Megaways to come. They went on to add that the deal was big for both parties involved and that they were eager to see how well their future Megaways games would be received by casino operators and players.
More Deals
This deal with BTG isn't the only one that SG have signed recently. Just a few days before the Megaways acquisition was announced they signed a deal with The Hit Group of Slovenia, which will see SG provide a selection of progressive jackpot slots to six casinos in Slovenia.
These online slots all form The Tree of Wealth collective, which are part of the Duo Fu Duo Cai series. They are land-based casino games that are played in the popular Pro Wave gaming cabinet, with players tapping into a selection of progressive jackpots and giving themselves a chance of winning one of four jackpots every time they take a spin.
SG also signed some big deals in early 2019 and throughout 2018, as they look to expand their business operations further. The company, which hires over 8,600 employees and has existed for over 100 years (initially as Autotote), is one of the biggest in the industry, with a massive share of the online video slot industry, the US race betting industry, and the land-based casino industry.
They have a revenue of over $3 billion and own some of the biggest companies in the slot sector, including WMS Industries, who created Ruby Riches, and Barcrest, who created the hugely popular Rainbow Riches. Deals like the one they signed with BTG will help them to create bigger and better slots which they can use to target new markets in new regulated territories, helping Scientific Games Corporation to become even more of a global powerhouse.