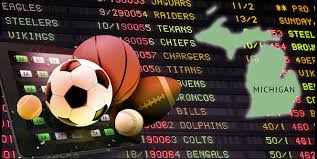 Michigan Moves Close to Legal Sportsbetting

Mathias Jensen

Published 13/10-2019
The online gambling sector is moving at a tremendous pace in the United States right now, with a dozen states changing their laws and embracing sportsbetting and online gambling, and Michigan could be one of the next in line.
A recent report, which passed through the state house committee, is expected to continue to move forward, at which point it could land on the Governor's desk. This is expected to happen before the end of 2019 and if it does and it is signed, then the gambling industry could change overnight in Michigan.
Big Money
The bill moving through the necessary legal avenues will make organized sportsbetting legal both online and offline. This, it is believed, will help to inject some serious sums of money into the state coffers, money that could then be used to improve key industries, such as education.
They have seen how popular online gambling has become in other states and have witnessed just how much revenue it is generating. They clearly want a piece of this and a lot of the proponents of the bill are focusing on the potential financial benefits. Not only will it increase tax revenue from within the state, but it will also provide an injection of money from license fees and could bring a boost to the tourism sector as well.
If At First…
This isn't the only bill aimed at legalizing online gambling in the state of Michigan. In the past there have been bills aimed at bringing legal fantasy sports to the state, in addition to online gambling, which representatives tried to install at commercial and tribal casinos. However, these efforts were vetoed by the former Governor, who didn't look kindly upon online gambling and believed that the state lottery would suffer too much from all the additional competition.
Now that a new governor is in place, that could change and the state could see new gambling laws being passed before the next Super Bowl, which takes place in February 2020.