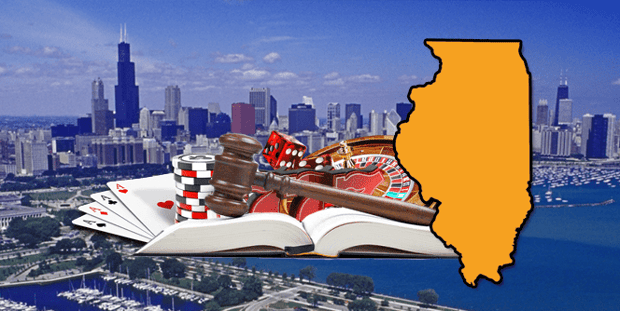 New Gambling Laws Passed in Illinois

Mathias Jensen

Published 17/06-2019
2019 has ushered in some big changes for the online gambling and sports betting industries in the United States, and there are more changes coming with each passing month. One of the biggest headlines to break in the last couple weeks comes out of Illinois, where the Illinois House of Representatives has passed legislation that could allow up to 6 more casinos to operate legally within the Prairie State.
The legislation that triggered this vote was inserted into a plan regarding capital improvements and it managed to gain consent following a massive majority in the Democratic-led House of Representatives.
The Windy City
One of these casinos could be based in the city of Chicago, where it definitely won't be short of potential customers. There are also suggestions that additional riverboat casinos could be legalised in and around the city, further expanding the availability of casino gambling options and greatly improving tax income and employment opportunities.
According to the Chicago Sun-Times, who reported on this legislation, the Chicago casino could be as much as 3x larger than any other casino in the state. However, its profits will need to be split between the state, city and operator if it is to go ahead.
Sports Betting
The legislation could also change the sports betting landscape, with sportsbooks opening at existing casinos, racetracks other applicable venues. It may even allow for a sports betting operation to be implemented at Soldier Field, which attracts over 60,000 spectators on a regular basis.
The licenses for such an operation are not cheap, however. It will cost operators $20 million to acquire just one of these. But the benefits should negate the cost as this is a big city and a huge state, with potential to match.
The legislation also discussed the possibility of gaming machines and slot machines being made available at several locations throughout the state, including both the O'Hare and Midway international airports, which welcome countless travellers every single day and provide operators with a lot of potential.
Opposition
Lori Lightfoot, the current Mayor of Chicago, was initially against the idea of bringing a major commercial casino to the Windy City, but is believed to have changed her mind following meetings with other members of the Illinois House of Representatives.
She claimed that she changed her mind after understanding that all sports betting licenses in the city would only be given "subject to local oversight". She also discussed the potential income that these new projects could generate for the state.
Illinois Governor, Jay Pritzker, has been in support of this legislation since the beginning, realising that the expansion project can help with his spending plan while also providing more jobs. In an official statement he said that legalising sports books and introducing more casinos and slots would "create jobs up and down the state", hinting that as many as 10,000 new positions could be available, many of which will be in "communities hungry for employment".
He added that he hoped Illinois could be competitive with neighbouring states and could use the additional income to provide services and support to communities throughout Illinois.