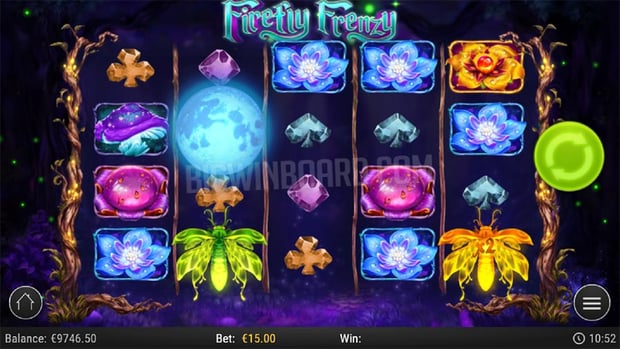 Play'n Go release Firefly Frenzy

Frederikke Pedersen

Published 18/08-2019
Play'n Go have made another move into the video slot market. Their latest title is whipping up excitement across the industry right now.
Based on a forest full of intriguing insects Firefly Frenzy is a title that has a top-class design and instantly catches the eye. With colorful and beautiful symbols landing on the reels it is an instant delight to look at. It also includes a range of features to help players chase large prizes.
First bonus
With five reels in place, players will be comfortable with the game right away. The great colors and delightful designs give the game a great look. The most exciting feature has to be the Frenzy Spins. This will activate whenever the moon glows and draws in the fireflies.
Additional features
The game includes 30 ways to win, so gives players plenty of chances to win big. There is also the chance for wild symbols to add a multiplier to your win if they are included in a winning line which adds extra fun to the base game. There are also bonus wilds which offer even bigger multipliers and the multipliers times together to increase wins by huge amounts.
Because the game has a high variance, there may not be regular wins on offer, but when they do come along, they will be explosive and high paying. A comment from Play'n Go said that they were aiming to create something different with this game. They wanted to add some variety to their roster of games and because of this, they approached it from a different angle to their usual title. The only area that they wanted to keep the same was the overall standard of the game, which they feel they have done justice.
Making games easier
Play'n Go have been known for a long time for games that tell great stories. However, Firefly Frenzy aims at just pure gameplay. By tackling the video slot as a classic game, it has followed a path that a lot of the releases from the company have trod this year. The focus on gameplay may not be as immersive to players, but it has helped to increase the level of fun on offer by a significant margin.
The high volatility may not be to everyone's tastes, but it will certainly attract high rolling players. It can be played on a range of platforms and gives players a generous 96% RTP.
Bringing sideways gaming to players
Play'n Go has also made waves with their Wild Rails slot. Because it took players on a horizontal journey as opposed to their usual vertical reel games, it was something different to players. However, it has gained a huge amount of popularity since it was released with players lauding it with a large amount of critical acclaim. It could lead to more releases in this vein in the future.