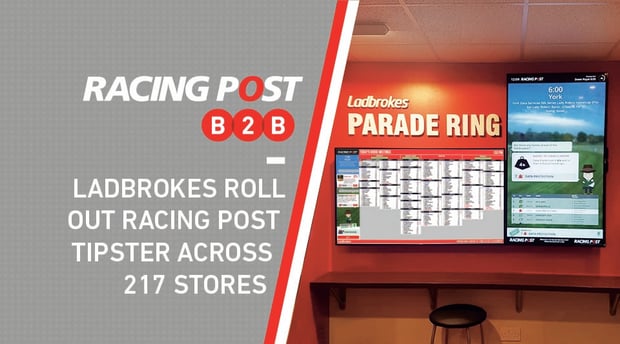 Racing Post and Ladbrokes work together to provide the paperless sportsbook

Frederikke Pedersen

Published 14/08-2019
In an attempt to stave off the diminishing popularity of high street bookmakers, Ladbrokes and the Racing Post have come together to create the first paperless bookmaker in Ireland. It is thought that they will be able to combat the reliance on gambling apps from the modern generation.
Using Irish charm
Ladbrokes Coral have made it clear that there are two reasons for this move. The first is to combat diminishing popularity, but also they want to combat paper wastage that currently is an issue at their retail locations. By using the Racing Post digital displays, Ladbrokes outlets in Ireland gets the power to offer a huge range of betting options without punters having to fill in a number of forms. It will also display bets on the screen as they place them which should lead to fewer mistakes being made. Odd changes will also be completed in real-time.
A new era of horse racing
The new touch screen displays should allow the new outlets to bring bookmakers into the modern era. It will offer a range of different stats and is one of the biggest new innovations to come to high street bookmakers this decade. There will also be the added bonus of the Racing Post offering punters access to their content which can usually be found within the insides of the newspaper.
Fantastic news
The displays will be moved into the outlets after being debuted last summer during the Galway Festival. Ladbrokes Coral feel that the displays are the latest innovation that will help them to keep pushing forward. They feel that these units will be giving better the power to gain access to a huge number of different information aspects in relation to racing.
Ladbrokes has released a statement which makes it obvious that they are happy to be able to launch this initiative. By going paperless they feel that not only are they making things better for customers, but they are also helping the environment. It's a fantastic new feature and customers will be getting extra despite the traditional method of bookmaking being removed.
Digital dynamism
The Racing Post was just as effusive in their praise for the new tech. They feel that the new touch screen displays are amongst the top of the line. They will be able to offer customers access to more information and statistics than any bookmaker has ever managed before. They will include everything from form to real-time odds changes across the whole of the UK and Ireland. These displays will give punters a better chance of making a sensible decision than they have ever had in the past.
The Racing Post released more through a statement. They said that they felt the need to become more tech-savvy was vital for the continued survival of bookmakers. Because almost all retail outlets are using technology to aid the experience these days it makes complete sense that Ladbrokes have taken this step to make sure that they don't get left behind.