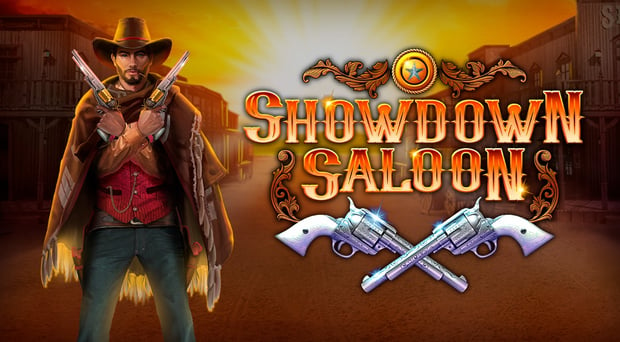 "Showdown Saloon" from Microgaming Takes Players to the Wild West

Mathias Jensen

Published 21/12-2018
The Wild West is more popular than ever before in popular culture. Fans of the genre will be particularly excited by Microgaming's latest release: "Showdown Saloon". This new video slot has been developed exclusively for Microgaming operators by Fortune Factory Studios. Players are transported to the frontier, populated by cowboys and swinging saloon doors.
Premium Gaming Features
This is a five-reel title that has 15 paylines as well as a wide range of exciting mechanics such as Mystery Stacks, bonus spins, and re-spins. The Wild West is truly brought to life through stunning graphics and rich animation, as well as a feel that is submerged within the genre. Players will use playing cards, poker chips, dice, and pistols as symbols.
The visuals are complemented by high-quality sound effects and music, truly placing players in the thick of the action. Sounds like train whistles and gun shots serve to create an immersive experience that puts players right in the center of their favorite period of history.
Mystery Stacks are placed on each reel, and during gameplay they are substituted for a single symbol. Up to three different symbols replace those five Mystery Stacks, while the first and second reels always have the same symbol. If the player uncovers the same symbol on both the first and second reel, they will uncover a re-spin feature. In this mode, the potential for higher payouts is unlocked when the Mystery Stacks match the symbols that are found on locked reels.
Re-spins during gameplay are also capable of unlocking bonus spins. In this round, players can earn 5, 10, or 15 bonuses spins when Mystery Stacks match across the reels. The more matches, the higher the payouts!
Players Can Now Enjoy the Game
The game was released on December 4th via Microgaming operators. Phelan Sykes is the Head of Game Production at Fortune Factory Studios and shared enthusiasm for the game in a statement:
"Enriched with exciting graphics and sounds, Showdown Saloon gives you the feeling of mingling with card sharks and gunslingers in a classic wild west saloon. Optimized for desktop and mobile, the game allows players to set their sights on high stakes wins. We are confident players will enjoy the game as much as we do and look forward to releasing more games for Microgaming in the future."