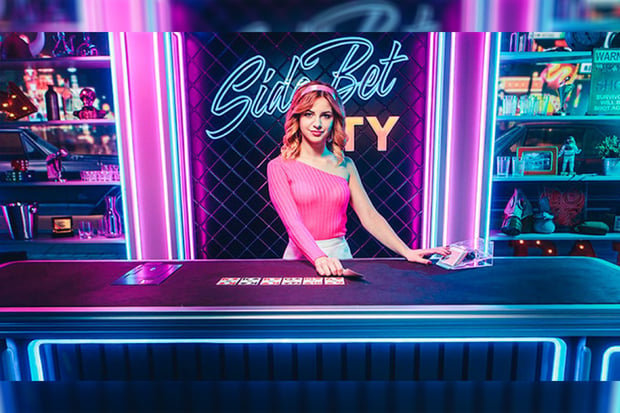 Side Bet City Launched by Live Dealer Giants Evolution Gaming

Mathias Jensen

Published 21/07-2019
Evolution Gaming have just added another string to their bow by expanding their Live Dealer poker offering. The Live Casino giants recently announced the launch of Side Bet City, which takes players back to a poker room circa 1985 and offers them a wealth of cool new additions and side bets in addition to some classic poker features.
A Change
A lot of Live Dealer games take place in a modern setting. After all, these games are streamed from live casinos and they use real decor, tables and dealers, so it's not as easy to adopt a new theme, especially when that theme is adopted inside a casino that streams many other games.
But Evolution Gaming is bucking this trend as Side Bet City immerses players in an environment that has been plucked right out of 1980s Las Vegas, complete with bright lights and a classic neon styling.
The way that Side Bet City is structured is also a little different to what traditional poker players will be used to. Instead of playing against a real life dealer, players go up against a pay table where the goal is to build as strong of a hand as possible and then to be rewarded in kind. Players select whether they will win on a 3, 5 or 7 card hand and they can also opt for the "All Lose" bet.
The actual value of the hands is a little more traditional as it is based on typical poker hand valuations, but the way the hands play out is not. The best way to think of Side Bet City is that rather than pitting the player against an opponent, it merely asks them to bet on the outcome of a given hand.
Fast and Simple
Side Bet City may seem a little complicated but according to the Chief Product Officer for Evolution Gaming, it is anything but. They used an official press release to talk about the game, calling Side Bet City a "fast, simple live poker game" before noting how the game is loaded with big payouts and wrapped in a "1980s theme".
It's a game that poker players should take to quickly as it still uses many of the traditional elements found in this classic poker game. But it is also a game that other card players and bettors will enjoy as it offers a number of different possibilities.
More New Titles
Side Bet City isn't the only title to be added to the Evolution Gaming range these last few months. Just a few weeks ago they announced the launch of Lightning Dice, which adds a unique spin to a classic dice game and gives players a chance to scoop as much as 1,000x. Lightning Dice can be played on multiple different platforms, including smartphone, tablet and desktop, and it is filled with bold visuals and big multipliers.
Lightning Dice and Side Bet City have already been rolled out across the Evolution Gaming network and can be found on most sites that work with this Live Dealer operator.