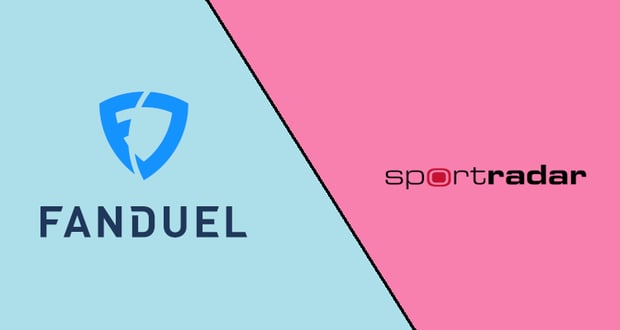 Sportradar AG Sign Partnership with FanDuel Group

Mathias Jensen

Published 14/05-2019
The US-based fantasy sports giant, FanDuel Group, has just announced a brand new deal with Sportradar AG, one that will see its mobile betting app feature a host of live streams from some of the biggest soccer leagues and tennis tournaments in the world.
It's a big deal for both parties but it also provides more variety for players that use the FanDuel Group app, as they can now watch the matches that they are betting on.
The Deal
An official press release announced this partnership, with both parties commenting on it. They noted that this deal would be the first of its kind in the United States and would allow the Live Channel Online service that Sportradar AG provide to be placed on the FanDuel Group betting app.
Many of the games that it will show will come from European soccer leagues, where some of the best players in the world strut their stuff in the biggest leagues, including the incredibly lucrative Spanish and English leagues, as well as leagues from Italy, France and the Netherlands.
Big Advantage
FanDuel Group announced that this partnership would initially only benefit players in the state of New Jersey, where live sports streams would be combined with pre-match betting and in-play betting. Whether this will be rolled out into other areas remains to be seen, but for now at least it means that players in New Jersey will be afforded the same luxury that is afforded to players in big online gambling countries like the UK, Canada and Australia.
A spokesperson for FanDuel Group said that this deal would provide players with a "first class betting experience" the likes of which just hasn't been experienced in the United States thus far. They also elaborated on how it would work, while noting that the streams would include both soccer games and tennis matches.
They went on to say that they already had a leading sports book and this deal would make them an even stronger force in the growing US sports betting industry.
Their excitement at this prospect was matched by Sportradar AG, who noted how successful live streams are on global sports betting sites, but how they have been very rare in the US so far. In bringing this feature to the US market they are helping to make the United States sports betting industry more expansive and varied, just like the biggest sports betting regions in the world.
Of course, FanDuel Group already have some experience of this as they are owned by Paddy Power BetFair, a company that was formed when BetFair, the world's biggest betting exchange, merged with Paddy Power, one of the world's biggest sports books. Simply put, they are the world's biggest fantasy sports provider and they are backed by the world's biggest betting company, so they are well placed to dominate this sector even this early on.