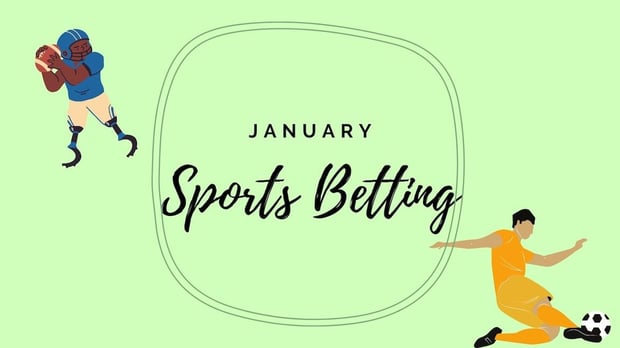 SPORTS BETTING IN JANUARY

V. Caro

Published 06/01-2021
2020 saw many of the year's biggest sports events cancelled. 2021, therefore, comes with a lot of hope for interesting matches, exciting playoffs and unexpected results. January starts off with a bang with fantastic football matches, the NFL Playoff as well as both the Super Copa final as well as the Copa Libertadores Final. Find out more about which games you can bet on and where you can bet on them!
A month packed with excitement!
January is a month packed with exciting sports events. There is a lot of football, with exciting matches in both the Spanish Liga as well as the Premier League. Across the pond the NFL is reaching its conclusion with the breath-taking Playoffs and the ACF and NFC Championship games. The final day of the month also gifts viewers a gift with the Pro Bowl, a match between NFC and AFC All Stars.
To make things easier for you we have summarized some of the most exciting sports dates in January:
• 10/01 – NFL Playoffs
• 13/01 – Semi-final Supercopa: Real Sociedad vs. Barcelona
• 14/01 – Semi-final Supercopa: Real Madrid vs. Athletic
• 16/01 – NFL Playoffs
• 17/01 – Liveropool vs. Manchester United
• 17/01 – Supercopa Final
• 24/01 – AFC& NFC Championship Game (NFL)
• 26/01 – Everton vs. Leicester
• 30/01 – Copa Libertadores Final
• 31/01 – 2021 Pro Bowl
Place your bets with the best odds!
We wouldn't be a good online casino comparison site if we didn't suggest some trustworthy sports betting casinos where you can place your bets safely and with great odds. In this article we want to suggest four of our favourite casinos that offers not only the possibility to place bets on the above-mentioned games but also allows players to play classic online casino games and Live Dealer games. These casinos also offer exciting welcome bonuses with fair wagering requirements. Below we have summarized the welcome bonus, wagering requirements as well a fun fact about each casino.
Vbet
Bonus: 100% Match-up on up to €100 on your first deposit
Wagering: 10x
Fun Fact: Sponsors of AS Monaco FC
Betsson
Bonus: €100 Bonus + €10 Free Bet
Wagering: 6x
Fun Fact: Licensed by three major gambling Authorities
EvoBet
Bonus: 100% Match up on up to €150
Wagering: 10x
Fun Fact: a lot of fun promotions to take part in
BetitOn
Bonus: Bet €15 get €10
Wagering: 0 wagering requirements
Fun Fact: can be used on your smartphone
If you want to learn more about these casinos and sign up to your favourite read our in-dept reviews here: