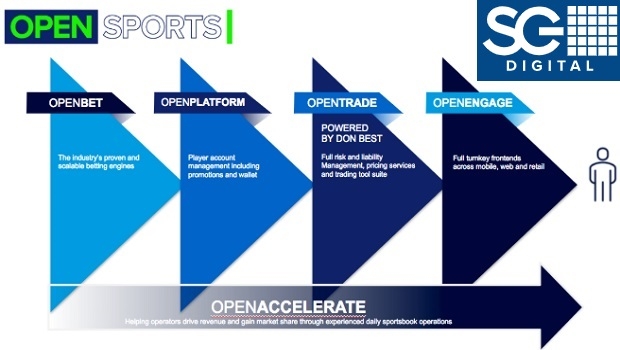 Sports Betting Suite Launched by Scientific Games

Mathias Jensen

Published 26/04-2019
Scientific Games Corporation have just announced the launch of a brand new sports betting suite known as OpenSports. This suite focuses on speed, ease-of-use, and player experience above all else and it is set to take the world of sports betting by storm.
A New Sportsbook Experience
Scientific Games Corporation is a B2B provider, and they have created OpenSports with their biggest clients in mind. It aims to provide them with a wealth of personalization options that allows them to tweak the software to fit their needs and to meet the demands of their customers.
OpenSports utilizes the proprietary software created by Scientific Games Corporation, and in addition to a wide range of betting features it also comes complete with wallet features and a wealth of player account options. There are multiple feeds and odds systems, and it is perfectly suited to meet the needs of online sports books as well as those in the offline retail sector.
It is as complete of a sports book solution as you can hope to find, and that's where OpenSports and Scientific Games Corporation hope to standout from the crowd in this highly competitive and saturated sector.
Unrivaled Experiences
A spokesperson for Scientific Games Corporation announced that the goal of this software was to provide "unrivaled player experiences", while unifying their software and their solutions under one brand to make this a more complete solution for gambling brands and a more exciting option for players.
Their spokesperson noted that this was a "natural progression" for them and one that was essential in an industry that is changing rapidly with each passing year and demanding more and more innovation.
Scientific Games Corporation are one of the biggest brands in the gambling industry right now. They have been around for decades but have made some great progress in recent years, beginning with the acquisition of brands like WMS Gaming and Barcrest, which included titles like Rainbow Riches and Ruby Slippers, and culminating with some massive partnership deals in the online and offline gaming sectors.
Scientific Games Corporation have also launched some big slots of their own in recent months, including Munchkinland, which is based on the Wizard of Oz, a classic film that has spawned many equally classic video slots, most of which are actually owned by Scientific Games. Munchkinland utilizes the Gamefield 2.0 gaming cabinet and was launched to great fanfare, with many players now flocking to play this game and to immerse themselves in a world filled with weird and wonderful characters and stories.