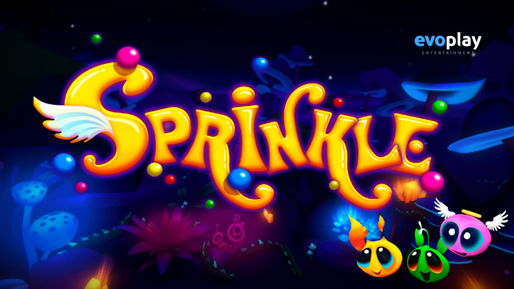 Sprinkle Video Slot Launched by Evoplay Entertainment

Mathias Jensen

Published 25/10-2019
Just a few weeks ago, Evoplay Entertainment launched the Reign of Dragons slot, a game that was an almost instant hit with players across many key regulated markets. This creative brand has now expanded its portfolio even further with the launch of a 5-reel and 25-payline creation called Sprinkle.
This slot was announced via an official press release, during which it was described as a fully 3D, virtual reality, in-browser slot machine—a mouthful, it's fair to say, but a promising one, nonetheless. Evoplay Entertainment promise that Sprinkle will transport players into an immersive fantasy world via the use of "cutting-edge technology".
Appealing to Players
Evoplay Entertainment was launched in 2017, making it a relatively new company in the iGaming sector. But it has been very busy in that time and has broken a lot of new ground over the years. The Sprinkle slot is a perfect example of the work that the company does. It features a Return to Player (RTP) of 96% and was created with the "next generation" of slot fans in mind.
Sprinkle is mobile-friendly and offers a range of "generous features" that include big Wild symbols, a Free Spins feature, and some impressive neon-inspired graphics.
Engaging
According to the CEO of Evoplay Entertainment, who commented on the game in a recent press release, Sprinkle offers players the chance to explore a "fully immersive fantasy world" and gives them full control. The game screen can be tilted, turned, and rotated—there is also a zoom function to get a close-up view of proceedings.
It uses something that the CEO described as an "intuitive swiping mode", and it can also be played with virtual reality headsets. VR is becoming increasingly common these days and many players have headsets on hand, so this is something that could go down very well with younger and more tech-savvy players.
As noted by the Evoplay Entertainment CEO, this is the first slot to offer a 3D virtual reality experience and it's one that provides a "dream come true" for players who seek a more immersive and in-depth experience.
The virtual reality aspect is being touted as a new way to see and play the game, as it gives players a close-up perspective and allows them to enjoy the great graphics and animations as they were meant to be enjoyed. It's also a feature that could inspire other iGaming developers to follow suit and create similar experiences, although that will likely depend on how popular this video slot becomes and how well received its virtual reality offering is.
Free spins: Free spins is something everyone loves, if you want to find the best free spins bonuses at some of our favorite casinos, then you should give our Free spins page a visit here!