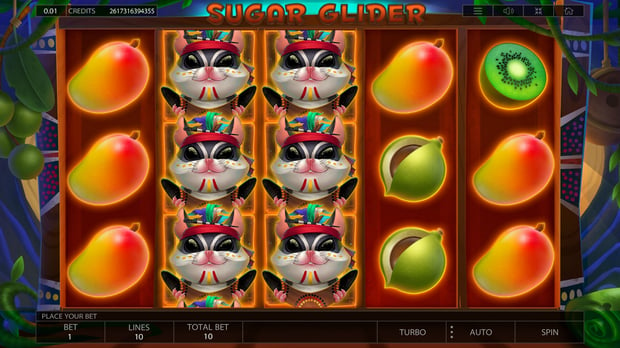 "Sugar Glider" Video Slot Announced by Encorphina Incorporated

Mathias Jensen

Published 02/12-2018
Endorphina Incorporated is a Czech online casino games developer that's on a roll. Earlier this month it released its "Lucky Streak" video slot and it just recently premiered a new five-reel and ten-pay line video slot game called "Sugar Glider".
A Forest Theme
Endorphina Incorporated is headquartered in Prague and put out a press release to share further details of its latest release. The press release explains that the game will follow the adventures of a furry, marsupial-like protagonist who explores a tropical forest at night. Of course, danger lurks, and our hero has to collect juicy fruits while avoiding the dangerous praying mantis.
An Immersive and Rewarding Experience
"Sugar Glider" comes with the latest high-definition graphics which are used to create "bright and colorful" environments. The immersion also extends to the soundtrack, which provides a unique backing to the action. The game also has a gamble feature which means serious gamers can secure a maximum win that is worth up to 1,000 times their initial bet!
Intriguing special feature
Endorphina Incorporated has released countless popular video slot games over the years. Hit titles like Voodoo, Stone Age, Minotaurus, Mongol Treasures, and Satoshi's Secret all bring something new to the table and are enjoyed by players to this day.
Getting into more depth about its latest release, the develop explains that "Sugar Glider" has seven payable symbols which also includes a scatter and wild icon. The game's special feature is triggered with an expanding mantis symbol is found on the reels and it confronted by the eponymous Sugar Glider.
In a statement, the developer explained:
"Once these two meet on the reels, the real fun begins. This is the moment when you will want to pay attention because your big wins are just around the corner. This slot has an easy gameplay that lets you fully enjoy the high-definition graphics and intricate animations."