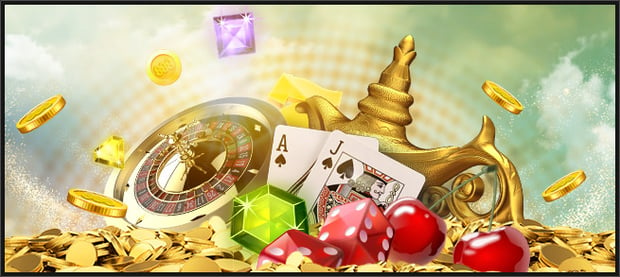 The secret terms of a casino bonus

Mathias Jensen

Published 16/12-2019
The 100% casino bonus is the most common promotion you can come across at online casinos. Many players decide to claim this bonus since it gives you a chance to double your deposit and play the casino games on a higher bet. But at some casinos you can come across secret bonus terms which are not clearly stated in the promo. So, you need to do some research before you claim the bonus in order to avoid any unwanted surprises.
Most common secret bonus terms to look out for at online casinos
Here is a list of the most common secret terms you can come across when claiming a 100% casino bonus. Make sure to know what they are in order to know what to expect at the casino.
• Wagering requirement
The most common term when claiming a 100% casino bonus is the wagering requirement. A casino can claim that the wagering requirement for the 100% casino bonus is set at 40 times. But this is very unclear and vague. Automatically you think that the wager is 40 times the bonus amount, but it's actually 40 times the deposit and bonus amount. This means that you will need to bet twice as much in order to clear the wager.
• Allowed payment methods to claim the 100% casino bonus
At some online casinos you can come across a term which states that Skrill and Neteller deposits are not allowed for claiming the 100% casino bonus. So if you don't see this term when you make a deposit the bonus won't be activated on your account and you will have to play only with your deposit.
• Maximum allowed bet size
The maximum allowed bet size is in correlation with the previous term. Some casinos have a different limit for deposits made via Neteller or Skrill. So, if the standard limit is $5 per spin, for these payment providers it can be only $1 per spin. Unfortunately, you will get to know this once you make a withdrawal and have your winnings voided by the casino.
• Maximum cash out
The maximum cash out limit from the 100% casino bonus can also be hidden at times. Usually there is no limit, but some casinos may impose one. It's very frustrating to learn that you can only withdraw up to 5 times of your bonus amount, after you hit a big payout at the casino.
• Sticky Bonus
When claiming a 100% casino bonus you should always check whether the bonus is Sticky or not. A Sticky bonus means that the bonus amount is awarded for wagering purposes only and cannot be withdrawn. So, if your bonus was $100 and you made a $500 withdrawal you will only receive $400 in real money. The $100 of initially awarded bonus money will be removed from your account.
How to find the secret bonus terms?
The best and easiest way to find any secret bonus terms at the casinos is to do some research before you make a deposit and claim the bonus. Some casinos disclose the full bonus terms and conditions, while others just state a few and leave a link to the General Bonus Terms. You must not ignore this link. Always click on it and take 5 minutes or more to carefully read through the general bonus terms. This is where you will learn everything there is to know about the promo. Believe me this will save you a lot of trouble in the future. There`s no point to read the bonus terms after you make a withdrawal and find out that your winnings will be voided by the casino.