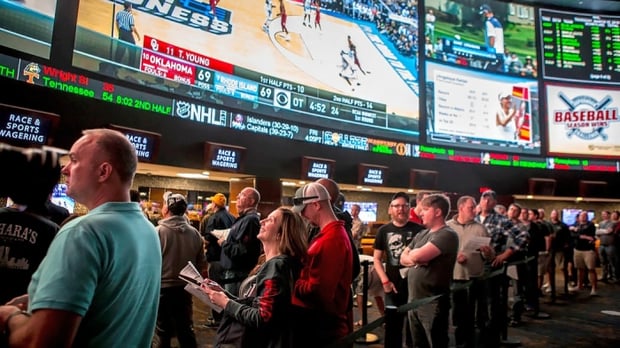 US sportsbooks take in over $10 billion in revenue

Mathias Jensen

Published 12/09-2019
In just over a year since sports betting was made legal in the US, there have been more than $10 billion in legal wagers placed at US sportsbooks.
The AGA have figures that say there were around $145 billion in illegal sports bets made each year in the US before legal betting was implemented. They feel that the figure is still quite high, but will drop as more states allow sportsbooks and sportsbooks become more accessible.
One of the biggest factors that was taken into account when making sports betting legal was to combat illegal gambling and to lower the crime rates. With just under 20 states making sports betting legal there is still a large proportion of the country where illegal gambling is the only option.
Front runners for sports betting
There are two states that are bringing in the vast majority of revenue when it comes to sports betting: Nevada and New Jersey. Nevada has brought in over 50% of the revenue so far this year with almost $5.5 billion coming in from them. New Jersey isn't too far behind, bringing in more than $3 billion in revenue. What has helped New Jersey is the allowance of mobile apps to offer sportsbook capabilities.
The ability to use a mobile device to place a sports bet in New Jersey means that players don't need to travel to place a wager. It also means that people who are close to the state line in other states can easily just move over the state line in order to use their app.
Lots of growing markets
There are other states that have been bringing in a fair amount of revenue as well. Pennsylvania are a growing market and have managed to bring in more than $250 million, even though they do not offer the ability to place a wager via a mobile device. Mississippi also have a similar level of revenue and they too only have brick and mortar sportsbooks on offer. The other state that has brought in a substantial amount is West Virginia. They have brought in over $100 million, but their problems with online gambling have limited that amount somewhat.
Others are attempting to play catch up
There are other states that offer sports betting to players, but there are various issues in the way of them generating significant revenue at the moment. Some states like New Mexico only allow sportsbooks to be on tribal resorts, which does limit the ability to create revenue somewhat. There are others who have made sports betting legal, but don't have their regulations finished yet so no sportsbooks can be opened at present t.
Huge potential for massive growth
While there are 20 states that have made sports betting legal, there are less than 15 who have regulations ready to go. There is also the added issue of not all states offering the ability to place wagers online. This means that in terms of what the market can be it is currently hitting less than 5% of what it potentially could. There is a lot of room for growth in this market.
Lots of exciting new markets
New York are seen as the biggest market with potential for growth. With just four sportsbooks in the whole state, many feel that mobile sportsbooks are the next step forward for New York.
It's estimated that unless the number of sportsbooks increases or mobile sports betting becomes a possibility, then New York will miss out on up to 90% of its potential legal sports betting business.
There are also a lot of states that feel sports betting shouldn't be made legal. Some of it comes from the conservative nature of the state, but some also comes from the various tribes in the area not wanting sports betting to become legal as they feel it will infringe on their current business. Despite all of this, only eight of the 50 states have not discussed making sports betting legal in any positive fashion.