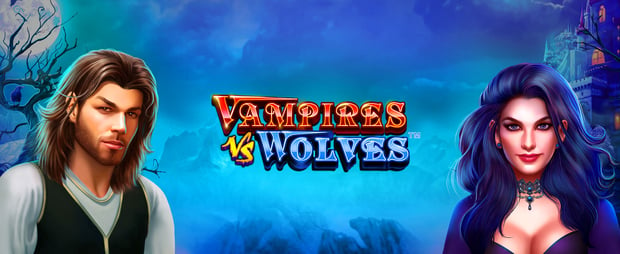 Vampires vs Wolves is released by Pragmatic Play

Mathias Jensen

Published 10/09-2019
Pragmatic Play have added to their extensive roster of video slots with the release of Vampires vs Wolves. This horror themed game is their second release in just four weeks.
This game follows Hot Chilli, which offered a fun, food themed slot to players. Hot Chilli was also released not long after the latest John Hunter game, which makes the last two months an extremely busy time for Pragmatic Play.
The game has five reels and 10 paylines on offer to players. It is quite standard for the industry, but the spooky setting and impressive graphics help it to stand apart from other titles on the market.
Plenty of features
When players are able to have both the castle and wolf land on the reels at the same time, then the game's bonus feature will be activated. This is a free spins feature that gives players the chance to choose who they want to play with: either the vampires or the wolves. Whichever choice the player makes, there are different benefits on offer.
The character that the player chooses will morph the reels into a form that fits their choice. Then the background will change to a wooded area where there are plenty of big prizes on offer.
Lots of excitement about the game
Pragmatic Play have released a statement where they made sure to tell all of their potential customers that they are very happy with their latest release. With highly enjoyable features and top quality graphics, it's a game that is sure to keep players engaged and excited for many years to come.
This latest release comes after Pragmatic Play have had some big news being released. Firstly, they have the releases of regular slots to keep people interested in their brand. But, on top of this, there is also the news that they have signed a deal with 888casino. Because they were the first only online casino to gain regulation in the USA, it's seen as a prestigious deal to have signed a partnership agreement with them.
Increasing customer numbers
Pragmatic Play have also made it clear that they are extremely happy to have signed a deal with someone they see as one of the top operators on the market. They feel that the quality of their games being seen by a wider audience can only help them in their quest to grow their market share.
888casino also had a similar opinion about the new deal. Because they feel that, as one of the oldest online casinos on the market, they have a certain amount of prestige to their brand, and are happy that the current reputation that Pragmatic Play have cultivated will match up with their own. The entire catalogue of casino games that Pragmatic Play offers will be available at 888casino.