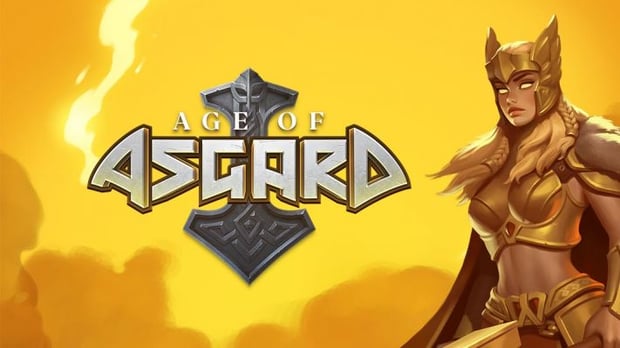 Yggrasil Gaming Releases Age of Asgard Slot

Mathias Jensen

Published 30/10-2019
Good and evil cross swords in today's release, spawning additional Wilds and Respins. Whose side are you on?#newslot #newgame #femalecast #ragnarok #asgard #slotgame #winning #evil #good pic.twitter.com/tmOee46mJb

— Yggdrasil Gaming (@YggdrasilGaming) October 24, 2019
All signs point to Age of Asgard, the newly-released online slot from Yggdrasil Graming, being a game of epic proportions. Announced just a few days ago to much funfare, the title is set in the mythical world of the Norse gods, where there is a high stakes feud between the forces of good and evil. This game is likely to appeal to a large number of people, as it uses a theme which is currently highly prevalent in mainstream media. After all, it comes from a developer with strong experience in the genre.
Online casino fans may have wondered how the esteemed slot developer Yggdrasil got its name. It is an Old Norse word that refers to an enormous mythical tree, which is central to Norse cosmology because it links the Nine Worlds. It should come as no surprise, then, that the iGaming developer Yggdrasil is interested in making games based on Norse mythology. Some of the most notable such titles so far are Vikings Go Berzerk, Vikings Go Wild, and Vikings Go to Hell. These are all among the best free slots to play in 2019. Perhaps unsurprisingly, many on this list tap into the rich mythology of ancient peoples, with Asian and Egyptian titles also making waves.
New Features in Age of Asgard
Designed to immerse players in the world of Asgard, the game is a five-reel slot with 40 paylines and a maximum RTP of 96.2%. The developer has worked hard to make this its most visually impressive offering to date. The symbols on the reels include Odin and Frigg, along with monsters at the battle of Ragnarok.
The game has been described as a "battle-filled extravaganza" by Natalya Ovchinnikova, who is in charge of slots at Yggdrasil. The design reflects two sides of a battle, with opposing sides on the left and right of the reels. The stacked wilds expand to occupy a full reel, while the animations give a real sense of being at war. The ultimate conflict occurs when the six free spins symbols land on the reels, thus triggering the Ragnarok Free Spins feature. When this happens, the whole game shakes to reflect the chaos of this legendary mythical event.
Why is it Expected to Draw in Players?
There is likely to be a high number of players interested in this slot, because Viking and Norse themes have been abundant in the mainstream in recent years. The History Channel series Vikings, for instance, has been a resounding success. The epic historical saga follows the trials and tribulations of the legendary Norse seafarer, Ragnar Lothbrok, as he sets sail to discover new lands.
Some viewers may have initially seen this as an imitation of HBO's Game of Thrones, but it evolved into a seriously good piece of television. Along with including some fantastic battle scenes, the show constantly touches on the gods and beliefs that drove these people to do what they did.
The better-known example of someone who frequently visits Asgard is Thor, from the MCU. There have been three films featuring Chris Hemsworth as the Norse god of thunder, and he also appeared in the Avengers movies. The character gave audiences who may not have known about Norse mythology before a good taster of what it's all about. It included a few of the best-known Norse gods, and also showed Asgard as a setting.
For anyone with an interest in Norse mythology, Vikings, and epic battles, Age of Asgard is a must-play. Even when these themes aren`t of interest, the gameplay and animations are engaging enough to make us think this is set to be another iGaming hit for the developer.