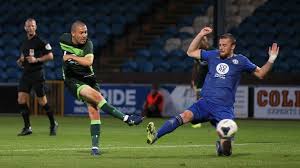 The best betting advice for Halifax vs Hartlepool

Güven Bilal

Published 06/08-2019
National League - England
Halifax vs Hartlepool - Halifax to win - odds 2.05 - CampeonBet
Halifax showed a great performance as they trashed Ebbsfleet 1-4 in the opening day of the National League. They controlled the game in 90 minutes and Ebbsfleet`s goal was there only shot on goal in the game. The morale and confidence are good and it`s a big boost before their first game against Hartlepool at The Shay Tuesday night.
Hartlepool`s season opener against Sutton wasn`t the best as they suffered a 3-1 defeat. Many would have expected three points against a Sutton side undergoing a transition period. And Sutton even had to endure a nightmare journey on the way up to north-east having seen their train canceled and having to jump on a later service which saw the players without seats for the three-hour journey to Sutton.
It was a big disappointment for the Hartlepool players and it`s expected that the manager will make several changes against Halifax. Last season both teams finished the season with 57 points, but Hartlepool made several changes in the squad and it could take some time before they`re gelled together.
Momentum, confidence, and morale are all on Halifax side and for that reason, I`m backing Halifax to win.