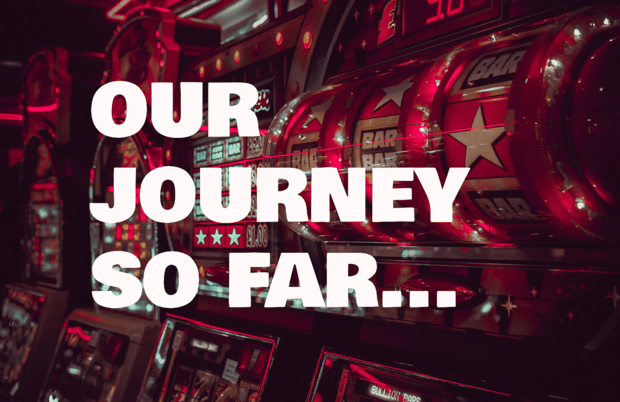 Part 70: Our Journey So Far…

Anonymous

Published 30/08-2019
It has now been a while since my journey into the wild online casino world started. I feel like in this time I have learned a lot of new terms, played a lot of games and I have gotten a feel for what I think are good traits of online casinos. I have also familiarized myself with helpful tools for finding new casinos, such as the reviews here on FindFairCasinos. Therefore, I decided that instead of summarizing my experience at Mr. Play I would like to compare the three casinos I've tried so far.
Bonus and VIP-program
Not all but I would say 99% of all casinos offer some kind of welcome bonus to their new customers. Below I have just stated the three different welcome bonuses:
Dealers Casino: 100% Match-up on up to €200 + 200 Free Spins.
Of these three my favourite was Play Ojo. Sure you don't get as much out of it but all you get is yours to keep and you don't need to think about the wagering requirements that can come back to hunt you as they did with me when I tried to withdraw from Mr. Play Casino. I also think it was great to receive so many Free Spins to so many different games from Dealers Casino, this made the experience a real introduction to online casino games.
When it comes to the Loyalty-clubs two of the casinos have systems set up where the more you play the more benefits you get. On Dealers Casino I was more unaware of the Loyalty-club, probably because I had never played at an online casino before, so I didn't know that there were benefits to reap. Therefore, I do not want to utter an opinion about it, because I honestly do not have one…
When it comes to the Mr. Play VIP-club I tried to reap some benefits, but you had to have 3 points before you could do anything, and I only had 1 reward point collected, so therefore I never really got to experience any of the Mr. Play benefits either.

To take part in the Loyalty-club at PlayOjo Casino you must ask the casino and they will then look at your profile and send you an exclusive invite if they find you worthy. This I must say was a huge disappointment. It is not so much the fact that you have to contact the casino yourself that is disappointing, rather the fact that the casino does not state what is needed to even be considered. This is a point that I think PlayOjo could work on, just a clarification of what is needed to be considered an A-lister.
BUT what you do get from PlayOjo are the kickers and the PlayOjo Wheel. The more you play the more you receive as a cash-back on your kicker and this you can use whenever you want so in a way that feels like you are saving up on a Loyalty-program even though you are not. Therefore, once again I must say that PlayOjo was my favourite. At PlayOjo you could see your progress and you can at any time collect the cash-back that you had collected.
Winner: Clearly PlayOjo, as it had the best bonus and the best loyalty rewards!
Games
Dealers Casino and Mr. Play are operated by the white label casino provider Aspire Global meaning that their game selection is pretty similar. They both have a great selection of slot machines, table games, live games, and scratch cards. PlayOjo's game selection includes these categories as well with the one exception being that they do not offer any scratch card games. Therefore, I would prefer the game selection that Dealers Casino and Mr. Play offer, because I personally like scratch cards quite a lot.

All three of the casinos have live casino games and many to choose from, which make the three of them great for any player looking to find their favourite live casino game. PlayOjo offers live casino games from both NetEnt and Evolution Gaming while Dealers Casino and Mr. Play only offer live casino games from the latter of the two-game suppliers.
I would choose to have scratch cards as a category rather than being able to play live casino games from both NetEnt and Evolution Gaming, for two reasons. The first reason is that the quality difference between the live casino games from NetEnt to Evolution Gaming is not very big. Secondly, I'd prefer to have scratch card games because it brings another dimension to the games…it is an easy, no-think type of game, while live casino games can sometimes be slightly stressful.
Winner: Draw between Dealers Casino and Mr. Play!
Depositing and Withdrawing
When it comes to depositing money into your account any of these online casinos are great choices in my opinion. I always use Skrill as I do not like using my credit card for online casinos and this has worked seamlessly with the three casinos. There was a small fee on PlayOjo for using Skrill which created some issues for me but with the help of the support, it was all cleared up. Because there is no fee on Dealers Casino or Mr. Play they must both get small plusses on the depositing topic over PlayOjo.
With Dealers Casino I did not even try to withdraw my funds, therefore, I have nothing to say about the withdrawal process. I just got so into the games that I lost all my money by betting big which admittedly was a lot of fun.
To withdraw from PlayOjo was very simple. The same method used to deposit was used for the withdrawal. The processing time was one full day and the transfer time was another full day, hence I had my money in the account after 48 hours which from my understanding is quite fast.
As stated in part 69 of this blog I was not able to withdraw from Mr Play since I still needed to wager my bonus money. I did not know that the real money was played before the bonus money so in other words, I couldn't withdraw as all the money in my account was bonus money. This made me feel slightly tricked, but it does say in the terms and conditions that this is the case so instead of feeling tricked I just decided to spend my last bucks on a game I truly enjoyed…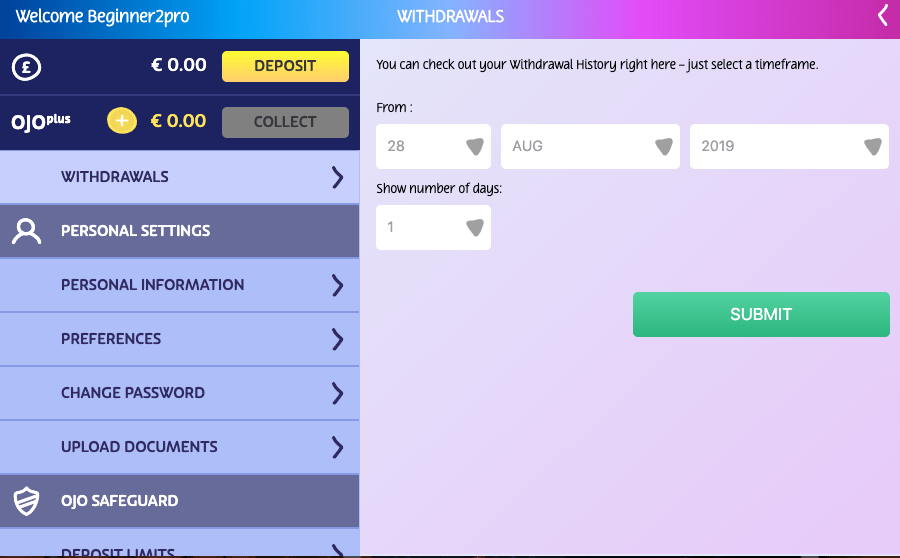 Winner: All of them but PlayOjo was the only one I withdrew money from so perhaps they are winners by default.
Design and Functionality
The designs of both Mr. Play and Dealers Casino are simpler and easier to use than the one at PlayOjo. I also struggled with the loading times on both PlayOjo and Dealers Casino at times, something I never experienced with Mr. Play.
If I would have to choose a favourite, I think I would choose Dealers Casino. I like the darker colour scheme of the website with green and yellow to accentuate the important parts. I also like that they showcase a lot more of the games which makes it clear that there are a lot of them to choose from, and that finding a new favourite won't be hard.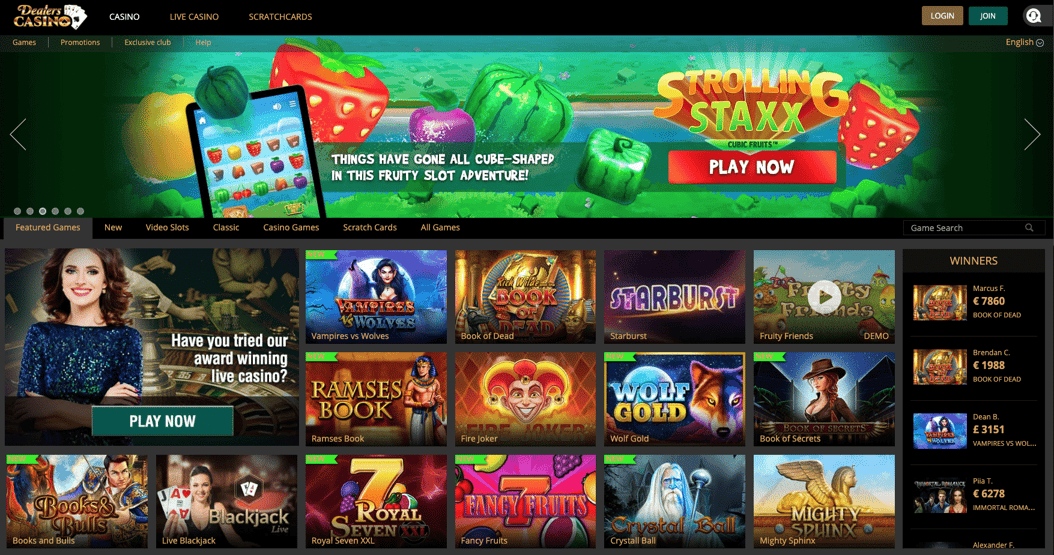 The three websites have fully functional mobile versions of their online casinos. The best part is that there is no need to download any extra apps or programs for the website to work. I have never had any issues with any of the casinos while playing online.
It is worth mentioning that Play Ojo does have an App for both Android and Apple users but that this was not tested.
Winner: All of them with a slight plus awarded to Dealers Casino
Support
I only had contact with the support at Dealers Casino and PlayOjo for two different reasons.
With Dealers Casino I experienced a day where I did not get the spins I was promised by the welcome bonus. I contacted the support through Live Chat, and they were very helpful and fast to come back with an answer.
With PlayOjo I had some issues with depositing. I thought I could deposit €14 but I could only deposit €10 because the fee was %5 of what you were depositing and I only had €14 in my account and that would've meant that I would be depositing an uneven number which would then not work with the spins I would receive. This was explained to me in a clear and precise way which made me confident about depositing.
As I did not need to contact the Mr. Play support I don't feel like I can discuss whether it is good or bad.
Winner: Inconclusive
Miscellaneous
There are some things that I find quite interesting that are not brought up by a conventional online casino review. One of the things is the "extras", like those small things that make each casino unique.
For example Dealers Casino has both a casino magazine, where new games are reviewed as well as a certification from the CO2 Neutral website. The certification assures that all the CO2 created by the casino and its operation will be compensated for. This makes me as a user think that they are really thinking one step ahead and not just focusing on the business but also on what could be interesting for us customers.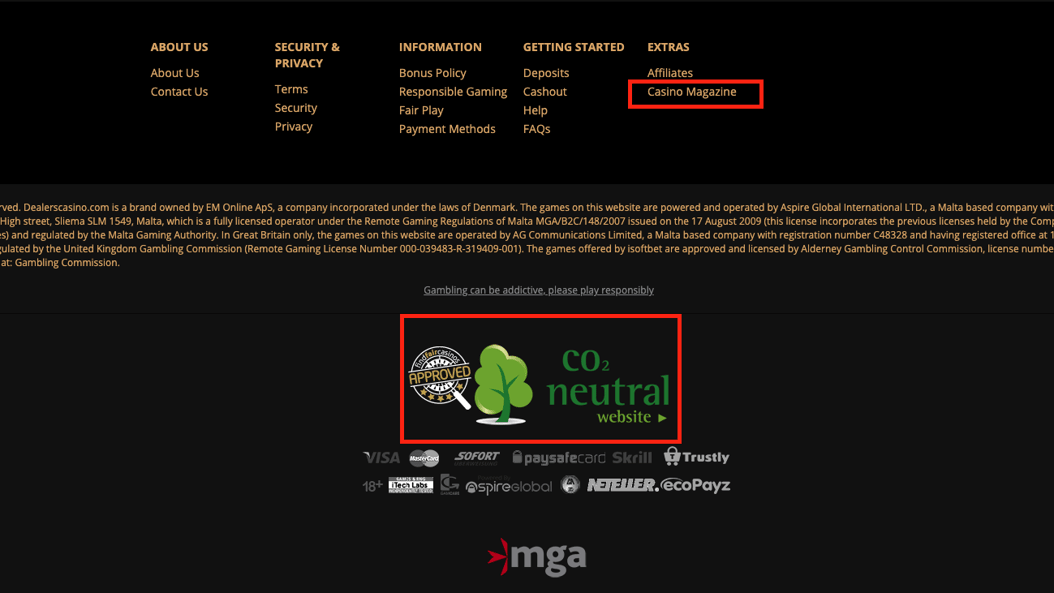 Mr. Play also has a magazine, where news is mentioned as well as guides on how to play certain games. The game descriptions are pedagogical and fun to read.
PlayOjo's extra-section consist of the Kickers which I already told about in the Bonus and Loyalty-section of this review of the three casinos we have met on our journey so far, but in addition to the kicker, there is also the PlayOjo wheel. A wheel that can be spun as soon as one level has been reached. The wheel allows you to win more fun prizes which always is a positive in my eyes, especially since all the free spins are wager free.
I would say that the three of them try to do something extra for the customer, but Dealers Casino might just be the only ones that go that little bit further. Therefore…
Winner: Dealers Casino closely followed by PlayOjo.
Conclusion
I find it quite hard to choose one between the three that I have enjoyed playing on so far. What I can say is that I think the bonus received when signing up for PlayOjo is the fairest bonus of them all, by far. Which makes me slightly biased towards PlayOjo.
Mr. Play and Dealers Casino are very similar, but if I would have to choose between the two, I think my choice would land with Dealers Casino over Mr. Play as the welcome bonus gives you more opportunities to try more slot machines for free. To be able to try slot machines for free is great when you are new to the online casino industry like I was when I started.
I believe that my journey so far has been very positive, I haven't met any obstacles or felt mistreated at any point so far. That is why I believe that all three of these casinos are worth giving a shot. So maybe I would start with playing PlayOjo and once bored I'd try out Dealers Casino and then lastly Mr. Play.
Either one you start with, if it is one of these three…I'm sure you will be pleased.