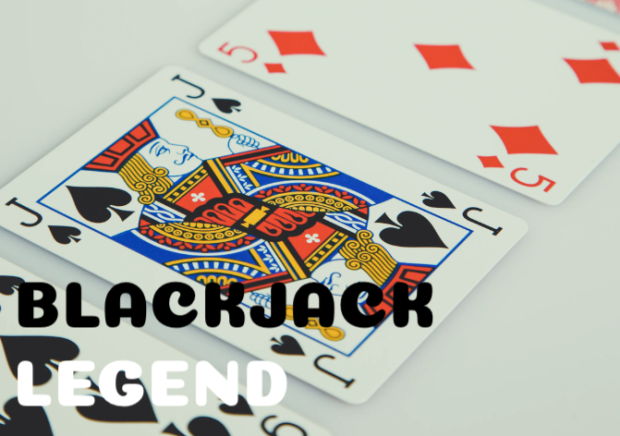 Part 78: Becoming a Blackjack Legend

Anonymous

Published 04/10-2019
To improve your skills in anything you need to put in time and effort. There has been a lot of talk about putting in 10.000 hours before you can call yourself an expert… if 10.000 hours makes an expert, how many hours makes a legend?
Slot machines are a lot of luck and even though online blackjack is also based on luck I do feel like practice helps perfect my skills. Therefore, I feel like more practice is needed if I will ever end up like a blackjack legend.
To begin with I decided to reread the FindFairCasinos Beginners Guide on "How to Play Blackjack" just to freshen up my mind with the rules that apply to Blackjack… I am a firm believer that the more information you have makes you a better guesser and sometimes even brings you more luck ;)
After reading the guide and freshening up on the term "Double Down" as well as remembering how to get a Blackjack (Ace + 10-point card) I felt like I was ready for some of Lanadas best Blackjack games.
Blackjack Solo
I decided to start by playing this blackjack game as you only have one hand to keep track of. In this game, the minimum bet is €0.25 while the highest bet is €100. A funny feature they have is that it is possible to change table colour. You can choose between a red, blue or green table. I appreciate the dark blue colour the most so decided to try my luck on that table.
Bet 1: I started by betting €1, once you've bet you have to press on "Deal" to get the cards from the dealer. I got a 6 and a 10 while the dealer got a 5. Usually, on a bet like this, I feel like standing, since the dealer also has to draw to 16 so it could end up in a draw… but since I read the guide, I decided to double down the bet. Unfortunately, I busted directly…
Bet 2: I got two face cards… a Queen and a Jack. This equals 20, which means that my chances to win are bigger than my chances to lose therefore I choose to stand. I won!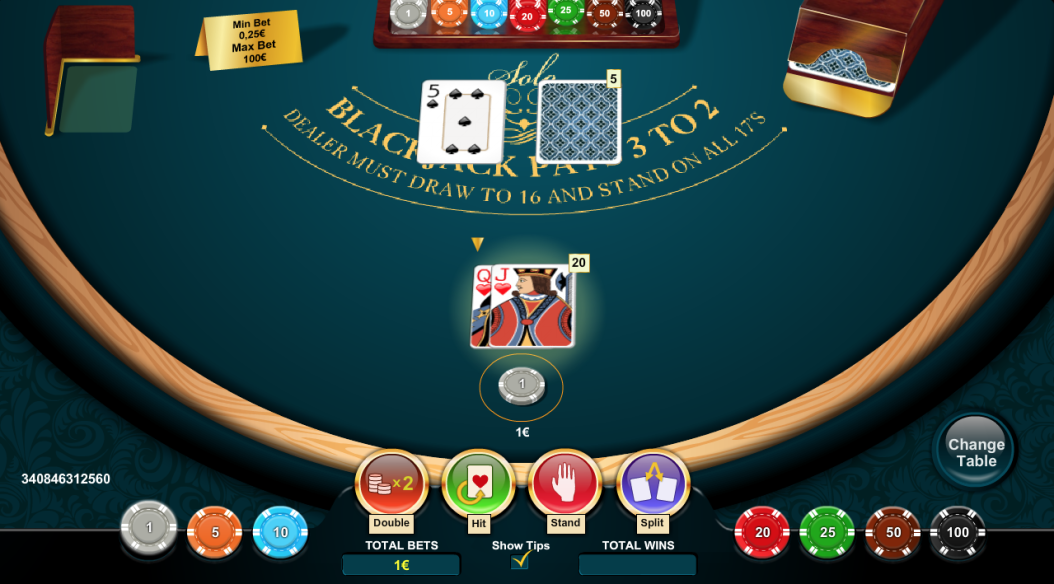 Bet 3: I decided to try to bet a little higher and to wager €5. I got a 4 and a 6. The dealer has a 2. No matter what I need to Hit once! 21! I won €10! See sometimes luck is all that you need! But imagine what I could've won If I had doubled my bet!... Could've, would've, should've…am I right?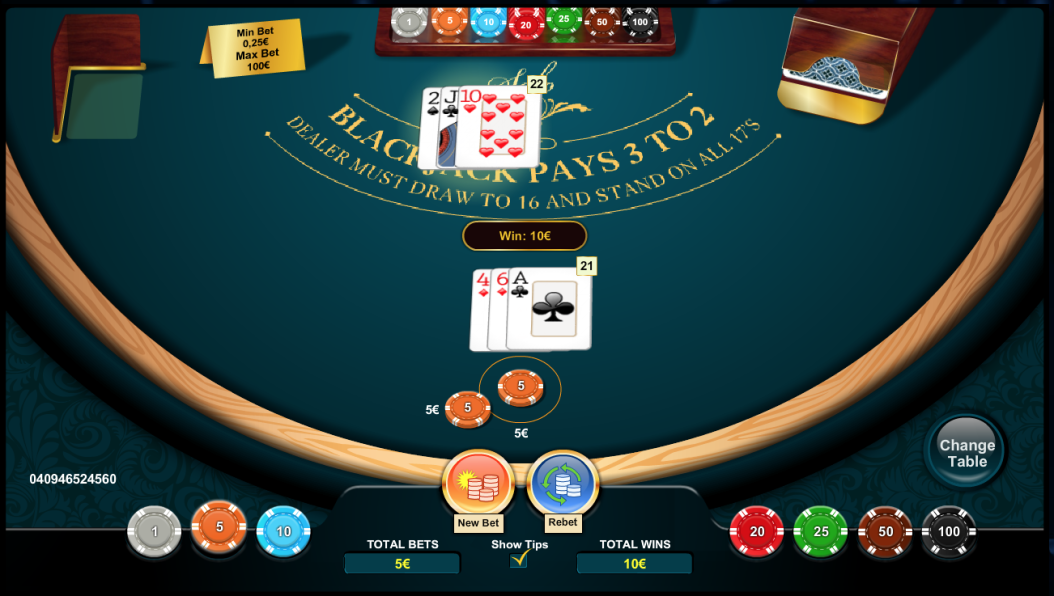 Bet 4: I decided to try with a €3 bet. I was dealt a 10 and a 3. The dealer had 6. I decided to Hit. I got a 6 which means I had nineteen as a score. I choose to stand. The dealer also gets 19. I don't win I don't lose.
Bet 5: Since I got back my €3 bet, I decided to bet it again. This time I was dealt a 9 and a 2, of course, I Hit. Dealt another 2 which means I have 13, I Hit again. 23, I bust!
I believe that this blackjack game which is available at Lanadas is one of the best ones out there for us beginners or even just for people who want to improve their game. There is nothing stressful about it… it's just you and the table
Want to try your luck on Blackjack Solo – Take the Lanadas Casino Welcome bonus and have twice as fun!
Blackjack Double Exposure
Now that I have tried one of the simpler blackjack games on the online casino, I thought it was time to test one that is a little different. In this game, players can play four hands. The minimum bet is €0.2 while the maximum bet is €50. I decided to only bet on two hands and to begin with, only start with a bet size of €0.5.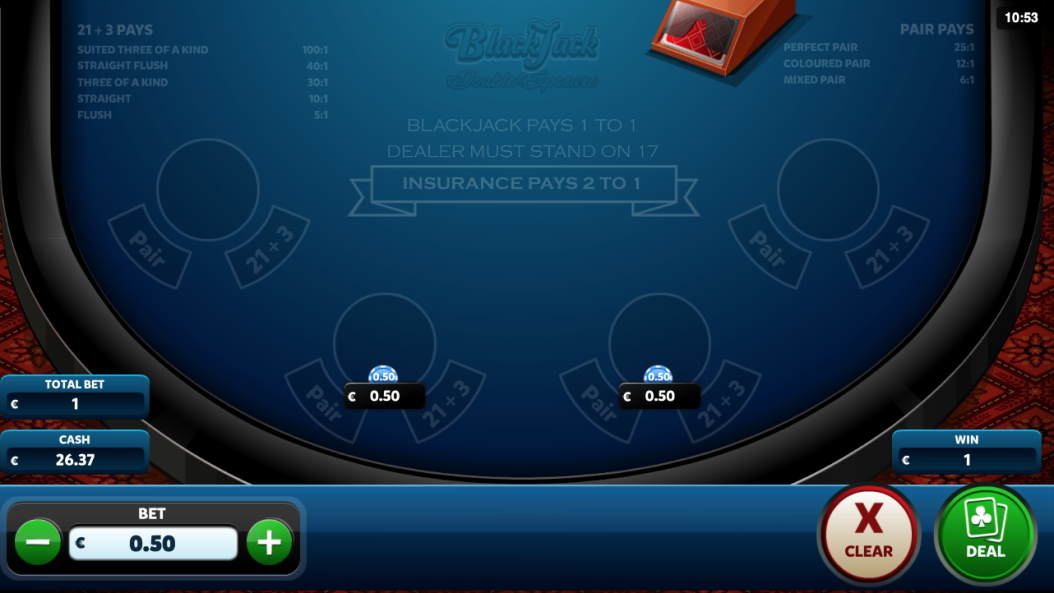 Bet 1: With different combinations, I had a total amount of 13 on both. On the first hand, I betted and got a face-card which means I busted. On the other hand, the combination 4+9+5 = 18 I choose to stand. The dealer got 20 and therefore won.
Bet 2: I decided to bet €1 on each hand. On the first hand, I got a 4 and a 7 and on the other hand a 2 and 9. I will hit on both hands. Or I least I planned to do so before I accidentally pressed stand on the first hand… On the second hand, I Hit, like I should've got an 8 and decided to stand. I won €1 since the dealer only got 18.
Bet 3: I decided to go back to only betting one hand. This time I decided that I should try to put money on the other features that this game has. I put €1 on my hand and then €0.5 on the "21+3" betting area and an additional €0.5 on the "Pair" betting area. Immediately I win on the pair since the dealer had a 5 and I had a 5. I also decide to Hit because I have a 5 and 8. I get 21 and win!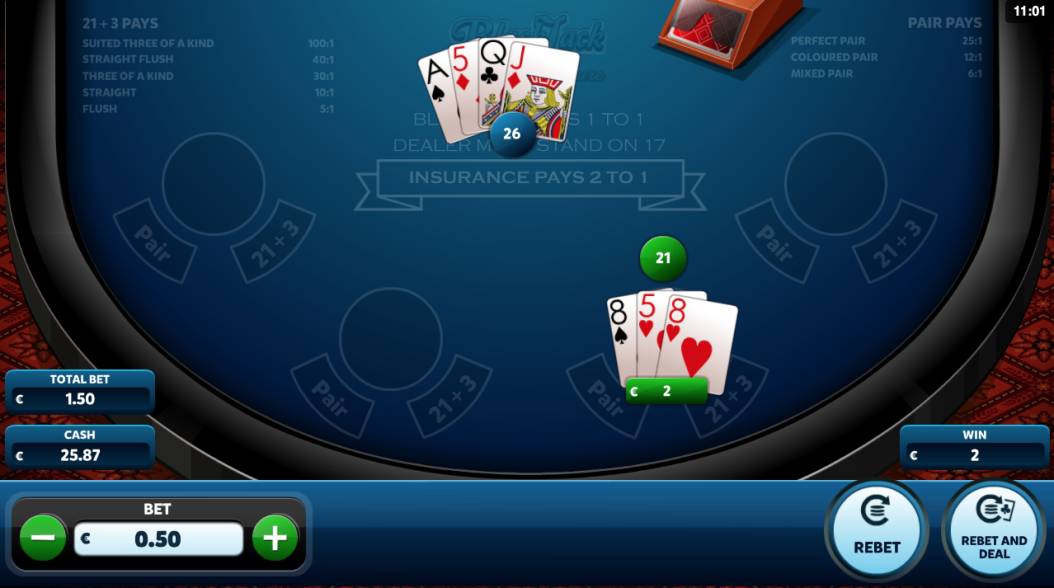 I think it's great that game suppliers find other features to add to classical casino games, but in all honesty, I think I appreciate the simple blackjack games the most. Especially on a day where I don't want to think too much and just play. That said, I think that all should try these more "complicated" games because in the end, by pushing ourselves we develop right?
Push yourself with slightly harder games – Play Blackjack Double Exposure here!
I love that there is such a variation of games on Landas. There are simple games, harder games, a big variation of different types of slot machines as well as a lot of scratch cards. I would say that there is something for everyone! I recommend players who are interested in playing some online casinos to try Lanadas out.