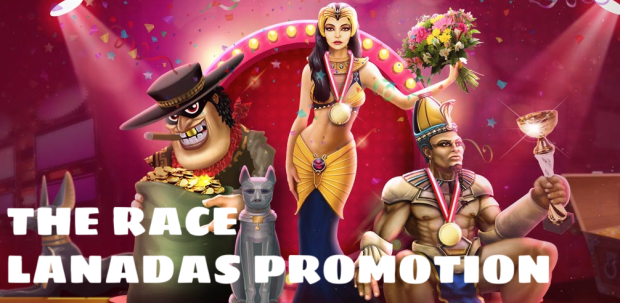 Part 81: An Exciting time for promotions!

Anonymous

Published 16/10-2019
Lanadas is a casino that not only entertains with their great assortment of games, they also make sure to keep us players entertained by offering daily promotions. Unfortunately, most of the daily promotions require a deposit.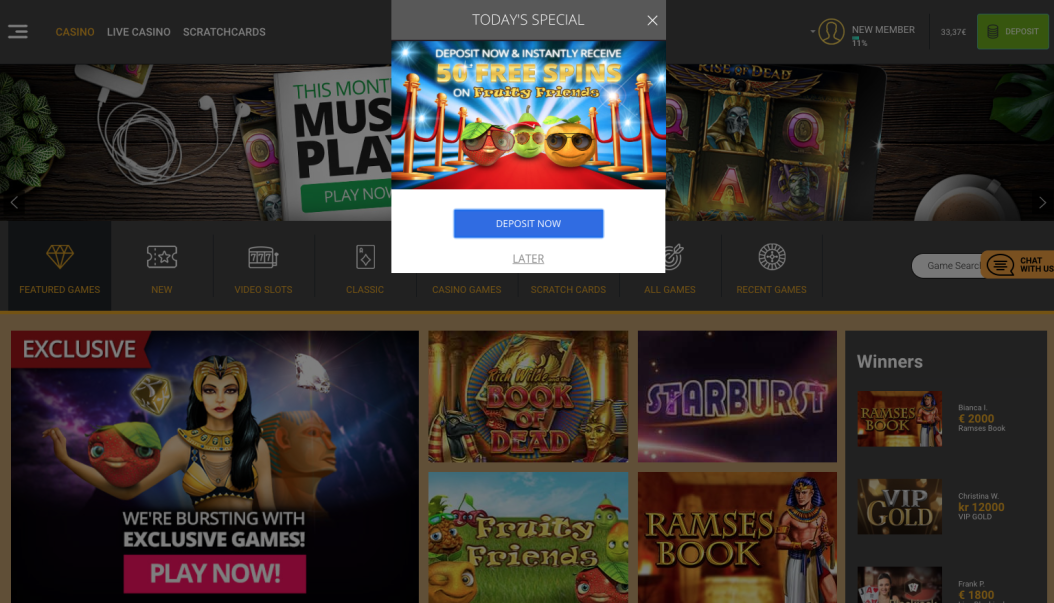 Since I still have money in my account, I didn't feel like depositing more. Luckily or maybe it's not luck, maybe it's just that type of casino that Lanadas is, they also offer other promotions we players can take part off. To find these, we must just click our way to the promotion page which can be found on the side menu bar, or furthest down on the webpage.
Right now, there is a promotion called – "The Race". This promotion runs from the 10th to the 17th of October and is a slot machine tournament where the winner will receive €15.000. To participate one must simply just accept the terms and conditions. The games that can be played to collect points in this tournament are the following: Fruity Friends, Mighty Sphinx, Egyptian Magic, Reel Bandits, and VIP-Black. Personally, I love a tournament where several different games can be played to collect points and therefore, I decided to join this tournament, even though the chances of me winning are quite small.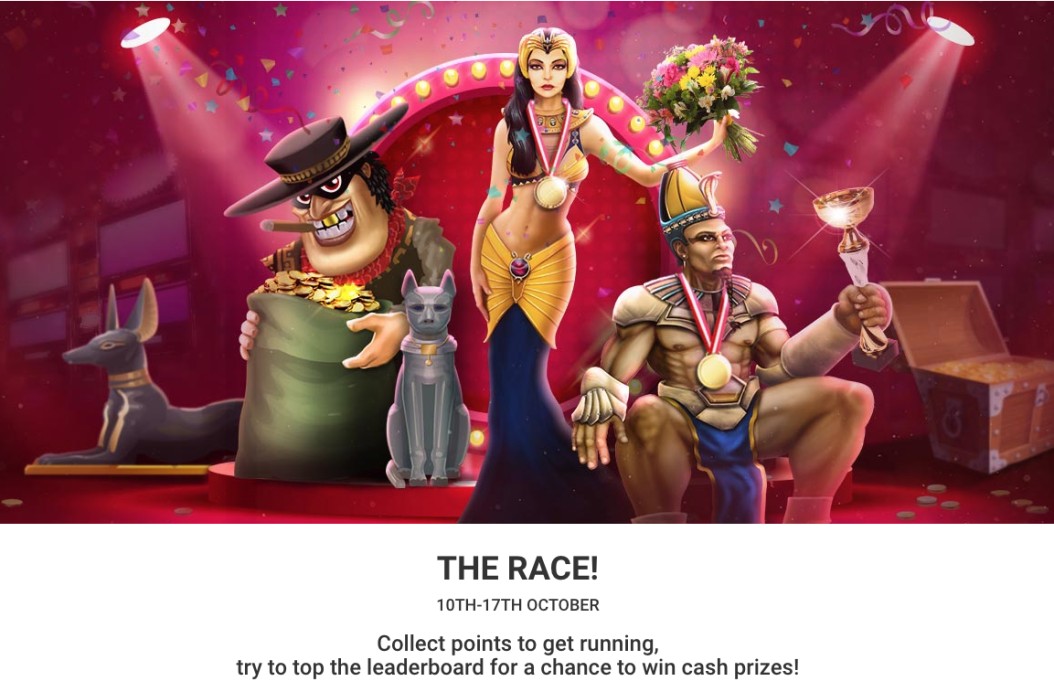 I thought the best thing would be to start playing those games I had never tried before so Mighty Sphinx here I come…
Mighty Sphinx
This Egyptian themed slot machine is from the game developer NeoGames. I don't know much about NeoGames but FindFairCasinos has written an excellent guide to this game developer which I will read after playing… you can also read it here!
Now to the game! It is a 5-reel, 3-row slot…honestly like most slots are…
Bet 1: I didn't want to start by betting big, but I wanted to keep betting on the 50 pay-lines so instead of minimizing that I minimized the bet size to the minimum making my total bet €0.5… I spin and I WIN BIG… or as big as you can on a €0.5 bet… I won €4.8!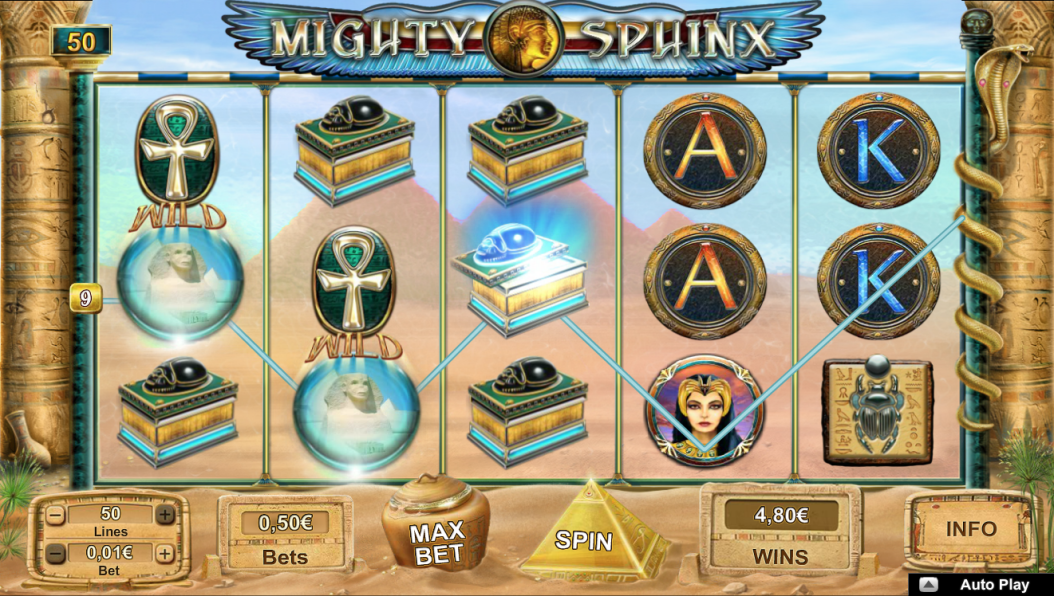 Bet 2: Nothing, but I do like that the spin button is a small pyramid!
Bet 3: nothing
Bet 6: FIVE OF A KIND and another bigger win… €2.7! Awesome!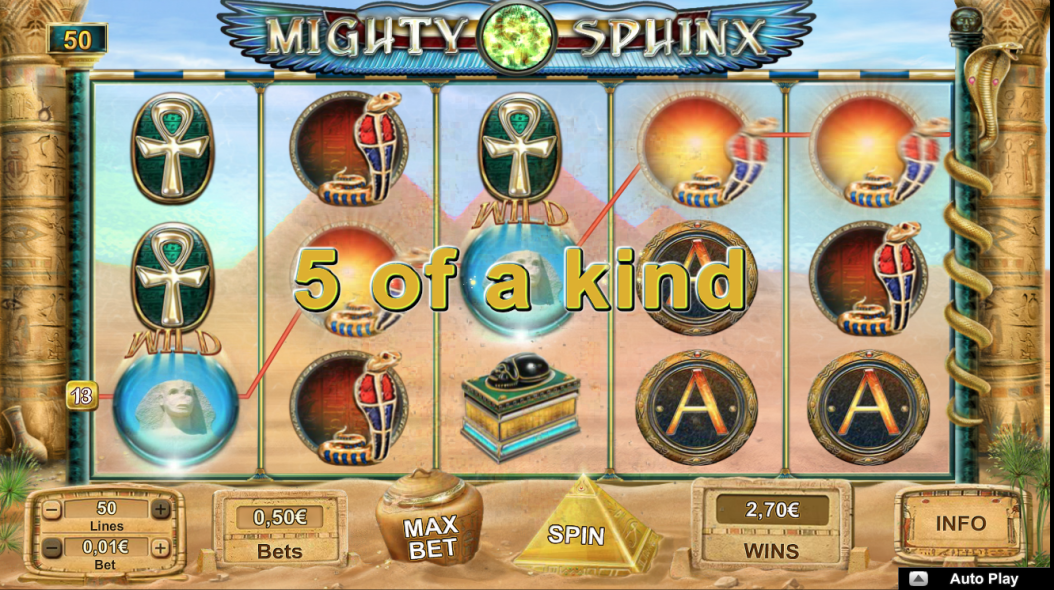 Bet 7: Since it`s going rather good… I should try to increase my bets just slightly… the next step is a €1… so I bet €1 on this spin… No win…
Bet 8: I can`t give up… so I bet €1 again! A €1 win!
Bet 9: Another €1 win, I`m guessing this is a low volatility game because I seem to be winning a lot today!
Bet 10-13: No wins… I will try three more bets to see if I can spin any of the special features of this game.
Bet 14-15: Nothing
Bet 16: €1 win but no special feature…
Spinning three or more scarabs should award you with 10 Free Spins… unfortunately, I only managed to spin two of those… Landing bonus symbols on 2 lines simultaneously will activate the bonus game… unfortunately did not happen to me…
Want to give this exciting game a try? – Claim the Lanadas bonus and join "The Race" tournament today.
Egyptian Magic
There are a lot of Egyptian themed slot machines, a lot more than I ever thought to be honest… a quick search for Egypt shows me 9 games…and that is not even counting the Egyptian themed games which do not have Egypt in their names. This slot machine is another one from NeoGames!
Once again, the slot is 5-reels, 3 rows… but instead of 50 pay-lines this game only has 9. The maximum bet is €90, while the minimum bet is €0.18… I feel like betting €0.18 is a bit too little so I will start my betting at €0.9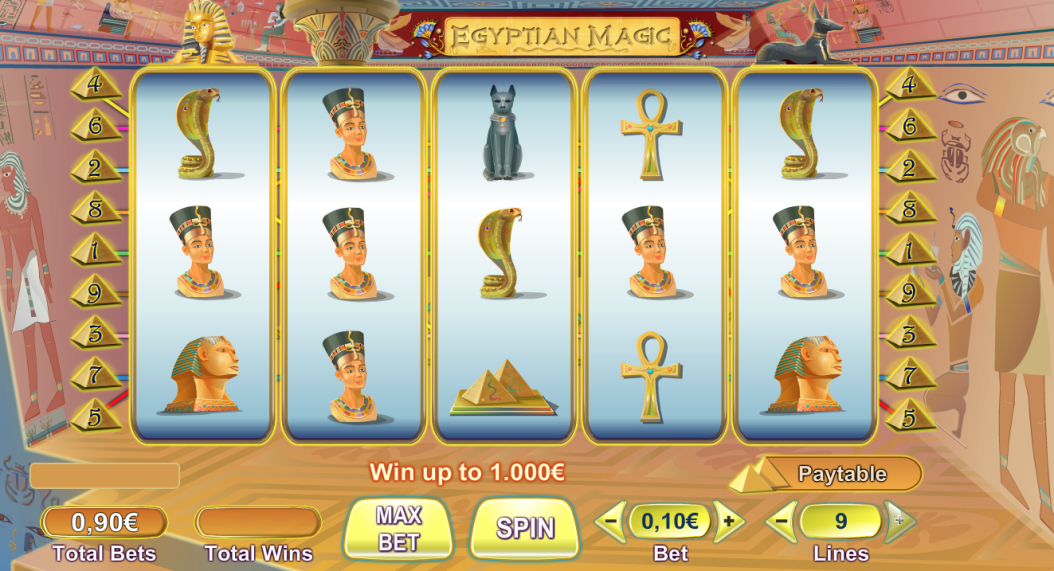 Bet 1: Whoohoo a €2.4 win!
Bet 2: a €0.4 win!
Bet 3: a €0.2 win… this seems to be the slot for people who want to win… even if the wins are relatively small.
Bet4: ANOTHER WIN… what is happening?!?! This time I won €1.2!
Bet 5: Maybe I should try to see what happens if I increase the bet just a little bit… I will now bet €2.25. Damn… The first time I don't win anything…
Bet 6: Whooho a €3 WIN
Despite being a game where you seem to win often, it doesn't seem to have any extra features or anything to make it a little bit more thrilling and therefore it is a game, that bores me slightly… so time to move on to the next!
You can click here to play this game and many others on Lanadas!
Reel Bandits
I've tried this game on a previous occasion. This Wild West-inspired slot is developed by Quickspin and is built up by 5-reels, 3-rows, and 30 pay-lines. The minimum bet is €0.3 and the maximum is €300… Imagine the nerve you must-have when you spin €300…whoa… I decided to bet €0.6, to begin with.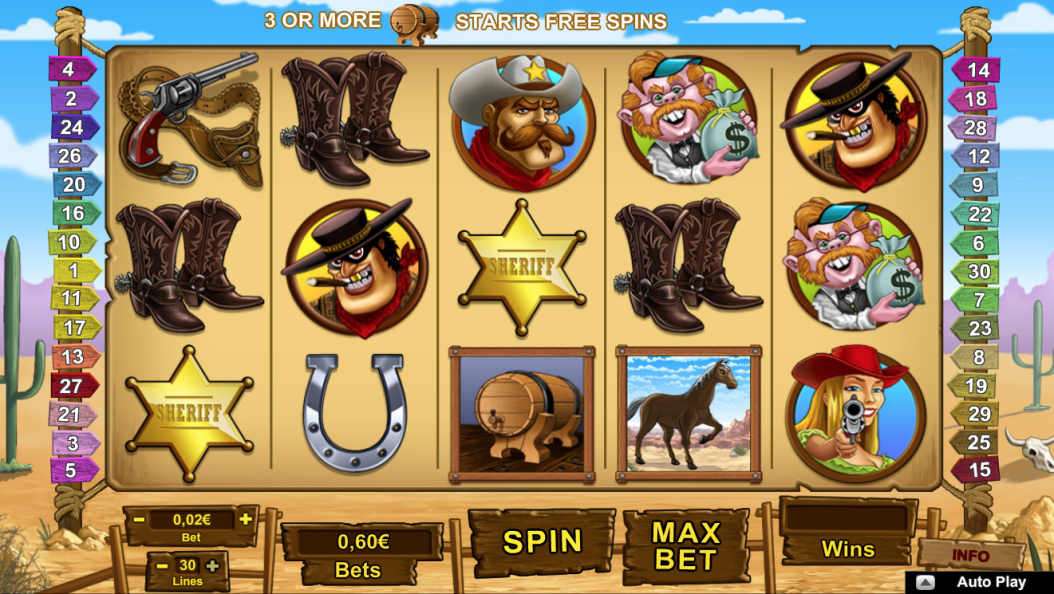 Bet 1: nothing
Bet 2: a €0.2 win!
Bet 3: Another win... €0.3.
Bet 4: Just a €0.06 win… These small wins are nothing I appreciate… I almost rather not win them and instead win bigger…but still, I like to win often… I guess we can't get everything in life.
Bet 7: A "Big" win! I won €1.06
Bet 8: Another €1.08 win!
In this game 3 or more barrels activate 10 Free Spins. I will try three bigger bets to see if I can trigger these barrels… not that there is any correlation between bigger bets and barrels being spun but still, I might as well try. My new betting level is €1.2
Bet 12: Only one Barrel landed! But I did also win €1.6!
Bet 13: Nothing
Bet 14: Finished off with a solid €2.12 win! Unfortunately, no barrels but still an acceptable win!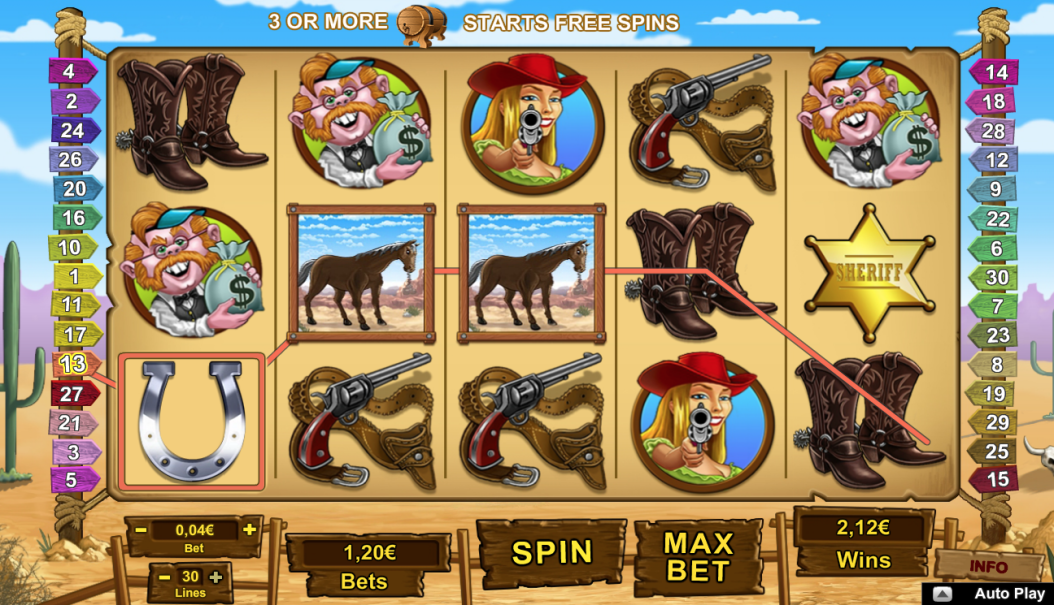 You can also spin big or small in search of the 3 barrels by registering to Lanadas!
One of the best parts of these tournaments/promotions that are available on online casinos is not just that it wakes up that competitive spirit in us but also that they guide us to games that we maybe haven't tried before. I might not ever be a tournament winner, but I do have a great time exploring these slot machines that I would otherwise ignore. By signing up for Lanadas today you can also take part in this tournament and many others, oh and maybe most importantly: Signing up today gives you a 100% Match-up on up to €200 and 50 Free Spins for the Starburst slot machine!