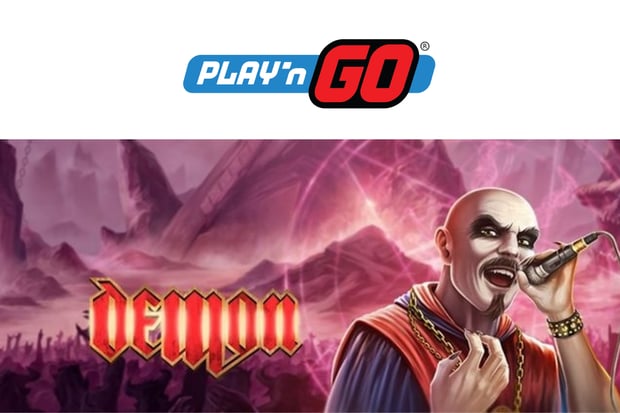 New Hard Rocking Slot Released by Play'n GO

Mathias Jensen

Published 22/10-2019
Rockstar video slots are all the rage these days as slot developers expand on the idea of the branded/licensed game. In the last few years this industry has embraced slots based on some of the biggest and best rock and metal bands in the world, from the destructive, LA-based Guns 'n' Roses, to British rockers Motorhead. There was even a slot themed entirely around the music of legendary left-hander Jimi Hendrix.
This is a niche that has been dominated by brands such as NetEnt, but it's one that Play'n GO is now set to build upon. It has just launched a slot titled Demon, which is based on the British heavy metal band of the same name.
Demon launched their first album in 1981 and were one of the biggest players in the British heavy metal movement of the late 70s and 80s, a movement that spanned the likes of Def Leppard and Motorhead, as well as every old-school rocket's favourite band, Iron Maiden.
The Features
Just like the aforementioned hard rock slots based on other famous bands, Demon features a licensed soundtrack, with some of the band's most popular songs. There is also an exclusive track titled Devil Rides Out. This is an unlockable bonus song and is something that Play'n GO is very excited to offer its fans. It's something that will no doubt attract a lot of attention from fans of British heavy metal and from the legions of Demon fanatics out there.
Although there have been many online slots based on classic bands and their music, this is the first time that a slot has served as the platform for a brand-new track. This is key, as it will ensure that Demon gets a lot of attention and it means that Play'n GO is fulfilling its goal of breaking new ground in the iGaming industry.
Other Attempts
NetEnt isn't the only one to have delved into the world of metal/rock licensed slot machines. In fact, this is a niche that Play'n GO has ventured into, albeit without the same level of innovation that features in Demon.
It has previously launched the House of Doom and Sabaton slots, the latter of which was based on the Swedish power metal band of the same name. According to a spokesperson for Play'n GO, who commented on the release of Demon, this slot is different from anything else out there right now. Their goal, they said, was to "capture the spirit of the band", and this is something they achieved by allowing the band to work with them during their creative process.
Demon is one of many titles that Play'n GO has released in 2019, with the spokesperson saying that its release will help to ensure they finish strong.
Other Big Moves
One of the biggest casino games that Play'n GO has released in recent weeks is Troll Hunters 2, a sequel to a title that was first launched in 2013. This game was released in combination with Kindred Group, one of the biggest companies in the iGaming sector and one that owns brands such as Unibet and 32Red, as well as countless others.
This game was launched exclusively on the Kindred Group network and has been available for a few weeks.
Play'n GO also signed a deal with Codere, a Spanish-based multinational company that has been very busy in 2019. The deal gave Play'n GO access to the rapidly expanding Latin American market, including countries like Colombia and Mexico.
Needless to say, Play'n GO has broken a lot of new ground in 2019 and has significantly boosted their standing in this industry. If this momentum continues into 2020 then the brand could experience significant growth in the next few years.