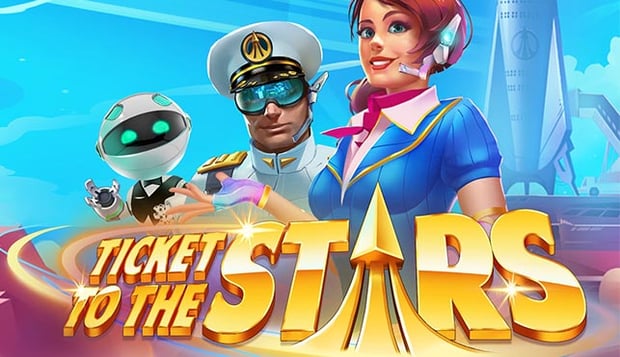 Slot Superstars Quickspin Launch New Slot

Mathias Jensen

Published 26/02-2019
Quickspin, whose casino games can be found on the Microgaming platform, are one of the most exciting developers in the world. They have produced a long line of top titles, and in 2019 they could be set to launch another: Ticket to the Stars.
The Swedish-based software developers have gone all-out to impress with this video slot, which takes place in outer space and has a Return to Player of 96.52%. It could be set to follow in the footsteps of many classic space-themed slots, the most notable of which is the NetEnt creation Starburst.
What to Expect
Ticket to the Stars has a very "Lost in Space" vibe, with symbols that include a robot butler and a stewardess, as well as a bottle of sparkling wine. One of the more interesting features is the addition of a Multiplier Meter, which builds as the players progress through the game and is applied during the bonus feature.
The goal, therefore, is to build the Multiplier Meter as much as possible and then wait for the bonus round to land. Once it does, then all of that hard work will pay off. During the bonus feature players can win as many as 25 free spins (the lowest number is 15), with the multiplier added to every single one of them.
Erik Gullstrand, the Chief Product Officer at Quickspin, was very proud of what his team had put together, calling it an "amazing game" and praising the amount of work that had gone into perfecting the visuals and the audio, as well as the many features.
He also noted how well 2019 has been going for the brand, before adding that they have many more exciting things planned and are looking forward to an exciting and action-packed second half of 2019.
The Swooping Reels
One of the features in Ticket to the Stars that we could see repeated in many more titles is something they refer to as Swooping Reels. It's a feature that has also been used in some other Quickspin titles, the most famous of which is Big Bad Wolf, a fun and cheeky little slot that is based on the story of the big bad wolf and the three little pigs.
It is a feature somewhat reminiscent of the Rolling Reels feature found on Microgaming titles, as well as features that NetEnt have used several times in the past. Needless to say, it will be very well received by fans of fast-paced, all-action titles, as well as fans looking for a fresh take on a popular theme.
Free spins is something everyone loves, if you want to find the best free spins bonuses at some of our favorite casinos, then you should give our Free spins page a visit here!