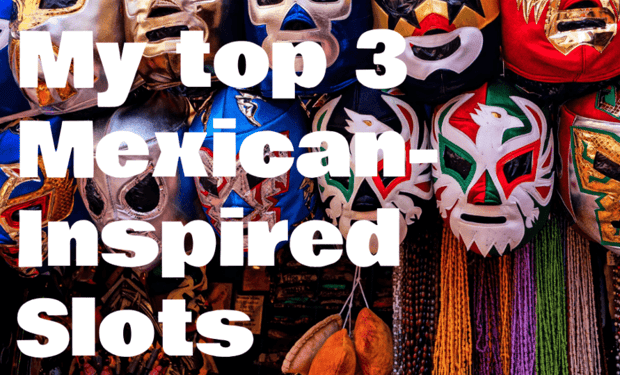 Part 73: My top 3 Mexican inspired online slots on Lanadas

Anonymous

Published 09/09-2019
It would be a lie to say that I have tried all 200 slots on Lanadas already… Although the library is similar to the one at Dealers Casino and Mr. Play, which means that I have already played some games that you can also find in their libraries such as "Starburst" and "Book of Dead". Today though I thought about focusing on the games that speak to the very core and theme of Lanadas Casino… the Mexican inspired games… and because I like a bit of salsa these games are also some of my favourite games at the casino…
Lanadas has a Mexican theme meaning that we players can find a lot of chilli games, Piñata games, and taco games in their exciting games portfolio. Below you can see how I did with the online slots or read about my experience.
Taco Brothers
A game supplied by the Swedish game studio – ELK. There is a little story video that starts the game…I like these small intro videos; I believe that a good intro video more often than not equals a really good casino game.
This game also includes a strategy part, where you as a player can decide how you want to play. Either you can play normally and just spin the wheels or you can choose different strategies. In the video above I tried a couple of different ones, but my favourite was the Booster Strategy which raises the bet level by 1 after every loss until reaching 4 levels where it stops… it then resets after a win.
In the first couple of bets I made I did not win too much, mostly some €0.02 wins or €0.16…. but once I changed to the booster strategy, I started to win big and even won as much as €3.2 on a single spin.
Want to try Taco Brothers – Sign up to Lanadas today where a welcome bonus awaits!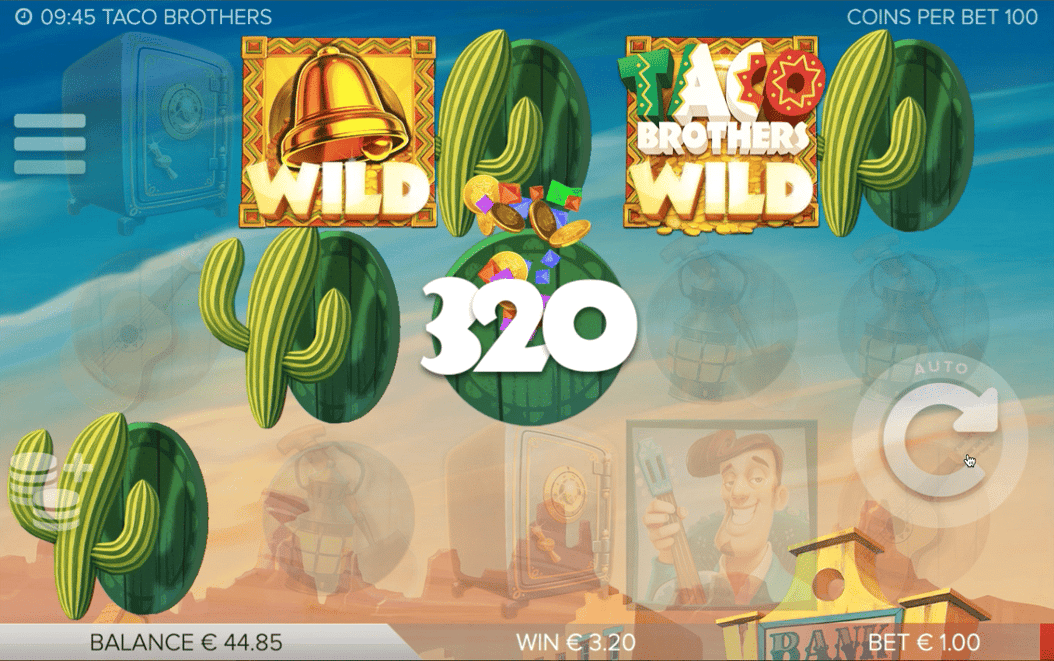 Spiñata Grande
The next slot machine game I tried is this classic from NetEnt. Once again, I must point out how fabulous the intro video is. NetEnt nails their slots!
This slot features colossal symbols which are a pretty uncommon yet very neat feature. We players can change the bet level and the coin value. I usually prefer to just tamper with the coin level. I played mostly with a bet of €0.4 but also tried my luck on some bigger €1 Bets. My biggest win was on one of these bets where I cashed in €2.75 on one spin.
You can now play Spiñata Grande as much as you want – Register to Lanadas here!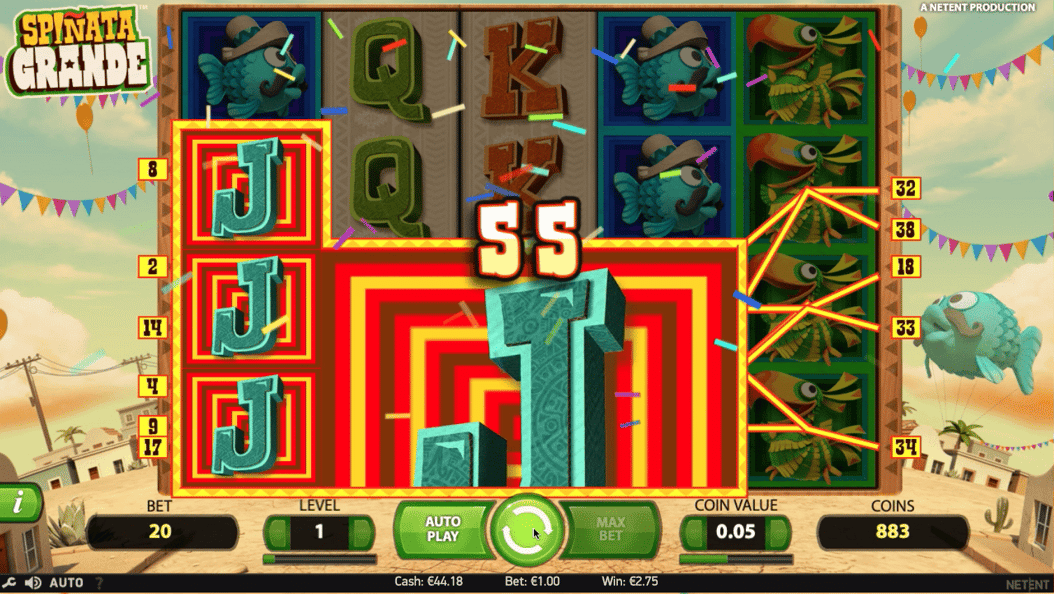 Chilli Chilli Bang Bang
The last slot machine game played today was Chilli Chilli Bang Bang by game supplier iSoftBet. This game includes a Bonus Wheel that is triggered by spinning three Scatter symbols. I didn't get so far, nor did I get to experience another one of the Chilli Chilli Bang Bang features that include Wandering Wilds and Stacked Wild Reels.
Players can in this game change the coin value which ranges from €0.01 to €1. I did not attempt bets so big, I stuck to my €0.02-€0.05-coin value. My Biggest win came from spinning two bonus symbols which gave me a win of €8!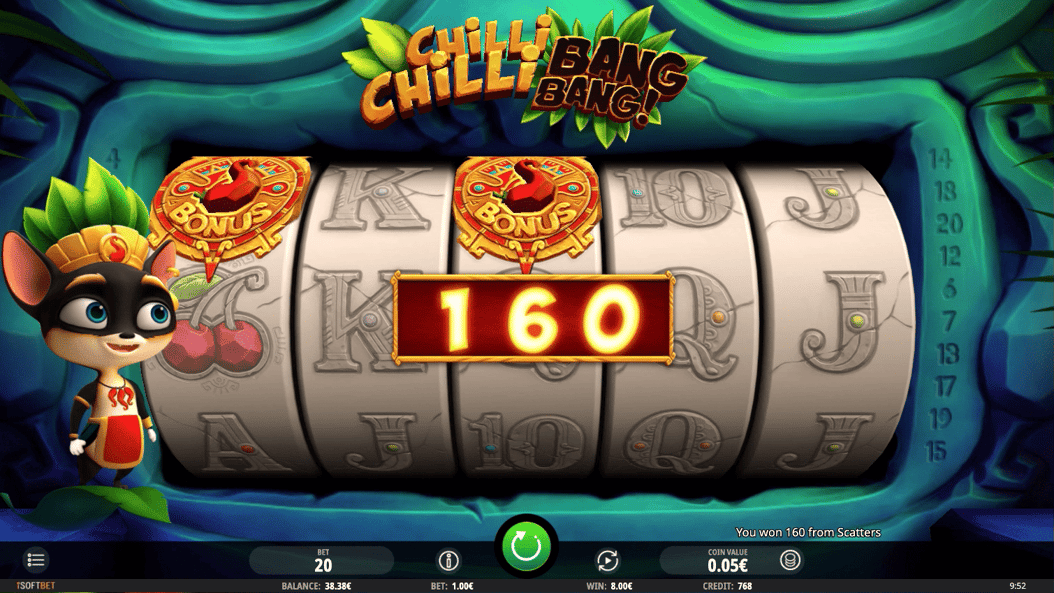 Do you also want to win big? Register your Lanadas account today and receive the 100% Match-up bonus along with exciting Free Spins!
In general, I must say that I appreciate these Mexican inspired games, maybe it is because they make me think of tacos, Piñatas, and Chilis, three wonderful things in my opinion… or maybe it is because they are genuinely good games. What I think the three games have in common is a great soundtrack, as well as wonderful and colourful graphics. And honestly, who doesn't want wonderful graphics while spinning reels waiting to win…