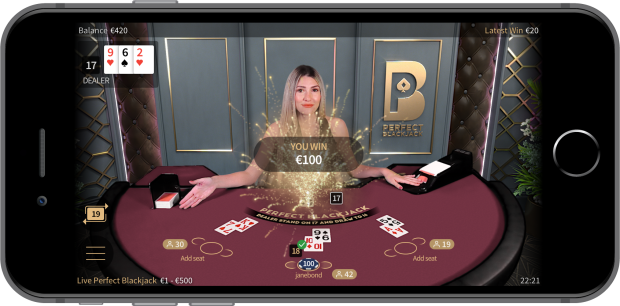 NetEnt Adds New Live Dealer Title to its Portfolio

Mathias Jensen

Published 20/10-2019
Less than a week after launching its Conan video slot, a six-reel fantasy title with 24-paylines, NetEnt AB announced another innovation. This time it ventured into the realm of table games, focusing on Blackjack, everyone's favourite casino card game. The creation, Perfect Blackjack, is a Live Dealer game that features all of NetEnt's style and mastery.
Headquartered in Stockholm, Sweden, NetEnt used an official press release to announce the launch of Perfect Blackjack and to describe its features and graphics in detail. A representative announced that their brand-new Live Dealer game was created in partnership with Grosvenor, a leading casino brand with multiple venues across the United Kingdom.
Perfect Blackjack provides a Return-to-Player (RTP) percentage of 99.5%, giving players the chance to learn basic strategy and to execute it in a way that can secure a big win.
First of its Kind
Available on both mobile and desktop, NetEnt's Perfect Blackjack has been called the "first of its kind", with the representative noting that it was developed with a focus on "player acquisition". It comes just a few weeks after the developer launched a unique user interface, which has spread across its portfolio of Live Dealer creations.
They went on to say that Perfect Blackjack had a very "sympathetic" house edge of just 0.5% and that the goal of the game was to deal players "ideal" hands so that they could easily follow the game and learn the strategies that lead to big payouts.
Truly Unique
So, what makes Perfect Blackjack so unique, why is it a "first of its kind" if it's simply a Blackjack game with a low house edge? After all, it wouldn't be the first game to have such low odds and there are many more varied Blackjack games out there.
The answer lies in its auto-pay feature, which is unusual for table games. This feature learns the player's style and makes moves such as "split" and "double" based on whether they have made similar moves in the past.
This is also where the focus on strategy comes into play. Blackjack players use something known as basic blackjack strategy, which is based on probability and dictates moves that players should make. These moves are based on the player's hand and the dealer's hand, with the idea being that the same moves will be made if those hands continue to appear.
This means that players can trigger basic strategy automatically simply by playing a few sessions of Perfect Blackjack.
There are also side bets on Perfect Blackjack, including something known as Perfect Pairs. When activated, this side bet triggers a payment when players have a pair of cards in their hand and this payout increases if they get another card and it completes a three or four of a kind.
There are multi-seat options as well so that players can play multiple hands at once and increase the number of hands they play per session.
An Innovative Game
The NetEnt spokesperson said that Perfect Blackjack was an "innovative" game that allowed players to use and benefit from optimal strategy. It offers something "truly different", they said, and after looking at the features mentioned above, it's hard to disagree with them.