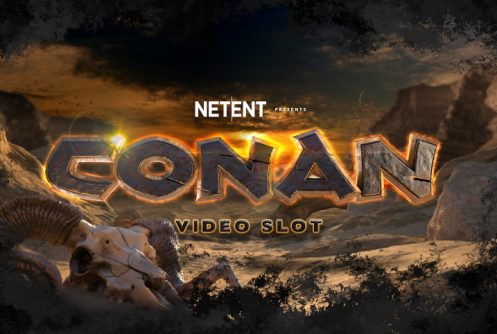 Six-Reel Conan Video Slot Launched by NetEnt

Mathias Jensen

Published 11/10-2019
NetEnt is constantly seeking to innovate and create, keeping its many fans happy by adding to its huge portfolio of beautifully made casino games. Just a few weeks ago it announced the release of Twin Happiness, which was embraced with open arms by NetEnt fans, and it has now added another title to its list: Conan.
This 6-reel, 24-payline title has been described as an "action-packed" and "feature-rich" title, one that is themed around the famous barbarian warrior of the same name. A representative from NetEnt described the slot as something that would appeal to fans of the Conan franchise, from the video games to the film staring the legendary Arnold Schwarzenegger, as well as fans of feature-rich video slots.
Another Branded Slot
Branded slots, which are games based on well-known licenses, are all the rage these days. These have included some of the biggest and best slots in the industry and have been created following a slew of lucrative deals.
One of the most famous of these was the Marvel Cinematic Universe deal that Playtech signed, only to lose it when the owners, Disney, decided that they didn't want to be associated with online gambling in any form. NetEnt has been involved with some big license deals as well, from rock stars like Jimi Hendrix, to the hugely popular Vikings TV show.
They also created a slot based on Planet of the Apes, and this new Conan slot is somewhat similar, taking inspiration from a brand that has thrived for generations and is loved by fans old and new.
Mobile Friendly
The Conan slot is mobile-friendly and has been described as a "sword-flashing" and "swashbuckling super slot", one that gives players a chance to win big. It can also be played by punters across many different stake levels thanks to its wide betting range and coin sizing.
The base game of NetEnt has "massive variety" and there are also a number of Mystery symbols and powerful Wilds to ensure that the bonus features aren't the only exciting aspect of this video slot.
A spokesperson from NetEnt called Conan the "perfect addition" to their portfolio of branded games. They said that they have stayed true to the brand, doing it justice in every way possible and doing their best to add lots of fun features, exciting twists, and more.