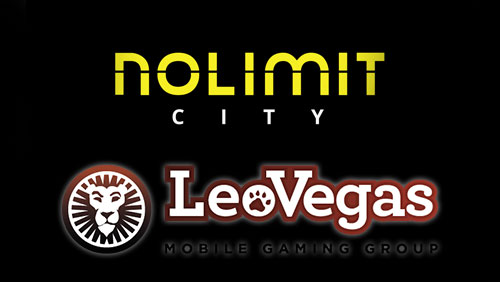 The award-winning LeoVegas.com welcomes Nolimit City

Mathias Jensen

Published 27/03-2018
The winner of numerous awards and a foremost operator of mobile gaming, LeoVegas.com is set to push the boundaries once more with Nolimit City. After a distribution agreement was settled in 2017, Nolimit City will become part of LeoVegas.com's rapidly expanding selection of high-quality mobile slots and will soon go live on the site.
Nolimit City will be released on the Relax Gaming platform following January's strong pilot launch, guaranteeing that Nolimit City and the supplier of the platform have a bright future in the industry. The first offering to be released will be WiXX, a game that is hugely popular among operators and players. However, LeoVegas.com has committed to releasing all of Nolimit City's games, with a new one launched each week.
This includes Creepy Carnival, Oktoberfest, the Kitchen Drama games series and Nolimit City's latest slot, casino Win Spin. casino Win Spin will be launched in spring and will be getting an upgraded desktop and mobile user interface as part of its release.
Nolimit City Head of Sales, Malcom Mizzi, is excited about this new opportunity, stating, "Having our games present on another leading brand such as LeoVegas.com, just proves how much our games have been noticed.
We truly believe that there is so much more ahead of us and cannot wait to release more exciting titles with such an acclaimed and recognized partner." LeoVegas.com casino Manager, James Ford, agrees, adding, "We are delighted to release such a young and ambitious game studio. We have kept a close eye on Nolimit's growth and like what we see so far. Their fresh approach in content is something that our players are sure to enjoy."
Nolimit City
Based in Stockholm, Nolimit City is an online game developer and platform that offers premiere games and services to game operators worldwide. Nolimit City started with the basics for its in-house platform, creating a powerful and reliable engine able to deal smoothly and easily with huge volumes of social interactions and game playing in desktop, Android and iOS format.
This was then combined with a ground-breaking bonus and back office group of tools that give partners everything they need. The platform is very adaptable and can be customized to suit the needs of different operators.
Nolimit City has top artistic and engineering talent amongst its ranks and is staffed by people who have a real passion for technology and online gambling. These talented individuals have created a fun-filled, immersive collection of games for lottery and casino operators that includes WiXX, Space Arcade, Bet on Poker and Oktoberfest as well as BBQ Frenzy, Sushi Mania and others in the Kitchen Drama series.