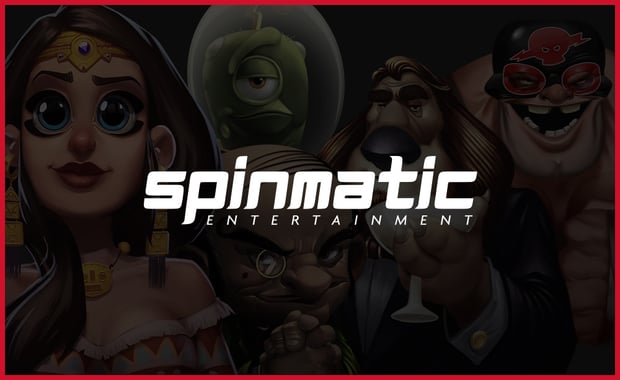 Spinmatic

Jonas Riis Vestergaard

Published 20/09-2019
Spinmatic was founded in 2017, and by their own account they have revolutionised the world of slots by producing fantastic casino games with the latest HTML5 technology. Their young team has in a short time build up an impressive reputation, where they constantly have created and provided stunning products in the such categories as online slots, jackpot slots, and progressive jackpot slots.
Their mission is to empower their customers by delivering high quality games in order for them to create the best gaming experience. To meet their goals, they pay extra attention to the quality of their products, and keep in mind their loyal operators and the preferences of their enthusiastic players when they create a new game.
They also have a dedicated support team to answer any questions you might have.
Licenses
Spinmatic holds licenses in Malta, Great Britain, Italy, and Romania. This means they have strict regulations they have to uphold. This ensures the integrity of their games and makes them as fair as possible.
Online Casino games
Ed Jones & Book of Seth
Book of Seth is a game build up around the adventurous archaeologist Ed Jones, who has been searching for the ancient relic "Book of Seth" all over Egypt.
• Game name: Book of Seth
• RTP: 95.63%
• Pay lines: 10
• Reels and rows 5 reels x 3 rows
• Supported platforms: Android, iOS, Windows
The main features of the game are wild scatters, free spins, special expanding symbols during free spins, and an option to gamble your winnings. When I played the game I could not stop thinking about how much it looked like another slot game "Book of Ra" or the newer version of the game "Book of Dead". To be honest, we found the music a bit too much, especially when you get a win, otherwise the graphics were good.
Boss Vegas
Boss Vegas is a game that brings you back in time to when the casinos were run by the mafia, back with luxury casinos, show venues, light shows, and beautiful people from all over the world. In the game there are four bosses: Resourceful Martin, Brute Vito, Shady Sergei and Baby-faced Michelle.
• Game Name: Boss Vegas
• RTP: 94.72%
• Reels & rows: 3 reels x 1 row
• Supported platforms: Android, iOS, Windows
Boss Vegas is styled after the very old school slot machine games, with 3 reels and 1 row. The graphics are good, and the music simply fantastic as it fits very well with the theme of the slot machine game.
Mayanera
According to legends, the Mayans were visited many thousand years ago by a man who shared a secret with them, that only gods possessed. He taught his people how to lead a better life. Thousands of years later, during a solar eclipse, his calendar made its return. He was then woken up in the depths of the Mesoamerica jungle.
• Game name: Mayanera
• RTP: 94.78%
• Reels and rows: 3 rows, 8 columns and 24 reels
• Supported Platforms: Android, iOS, Windows
The game is based around a wheel slot game, with 3 rows, 8 columns and 24 reels, displayed as a wheel. The features in this game are Croos match, nudge, TimeWarp, Bonus Game, and Free spins.
I found it to be a very exciting game where there was a lot happening all the time. After some spins on the wheel I won some free spins, and with that an animation started where the wheel opened up and there was another spin, this time with numbers not symbols, where I on the top wheel got some coins, the second were the amount of free spins, and the third was a multiplier. The graphics are great, and the music fit with the theme.
Mobile optimization
All of Spinmatics games are available on a wide array of devices, as we also saw with our three slot game examples, where the games were all supported on Android, iOS and Windows.